Thanks so much for all of your support of the LGL community this year. Your faithful comments and collaboration caused our community to be rated on the Top 10 Leadership Development sites (based on engagement). I'm humbled and grateful for your support.
To wrap up 2014, I share the most popular posts of 2014 in case you missed them.
I'm looking forward to an amazing new year for our community. If you've not yet completed the short survey on what you'd like to see next year, please take a moment now by clicking here.
Eight Questions You Should Ask Your Boss A very practical list of questions you can use to get a deeper dialogue going with your boss. It also includes some great conversation starters if you're the boss.
When Passive Aggressive Meets the Truth I must say, I'm glad this one got traction because it came from a really emotional place. A wonderful side effect of blogging is the cathartic feeling of helping others grow from my pain 😉
5 Subtle Ways Leaders Lose Credibility Credibility is hard to establish and easy to lose. This post covers the more subtle credibility-busters that often get in the way of great leadership.
5 Secrets to Great Skip Level Meetings Done well, skip level meetings can inspire, engage, motivate and inform the skipper, skipee, and even the skipped. On the other hand, poorly run skip level meetings inadvertently bring on "Diaper Genie" feedback and diminish trust. There's not a lot out there on this subject. If you run skip level meetings, there are some important tips here.
A Better Way to Address Performance Issues This model (left) goes beyond the traditional "will or skill" approach. An easy way to dig deeper.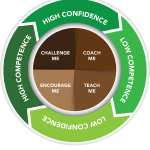 Trickle Down Intimidation The same leaders who carefully craft inspiring messages for the frontline, may be undercutting their efforts by inadvertent trickle down intimidation. Fear is contagious. Leaders watch the level above them and take their cues on how to act and what to say.
The 9 Biggest Mistakes When Presenting to Executives A practical guide to a stronger presentation. I use many of these tips in my leadership development work.
6 Reasons Your Team Yearns For Authenticity Team long for more authenticity. Find out why and how to give them what they need.
How to Succeed as Scope and Scale Increases As you move up, the game changes. Practical tips for succeeding at the next level.
Great Mid Year Review Questions Another question post. Most of these questions would work just as well for an end-of-year appraisal.