"Karin, we're thinking about starting a leadership program for our team and we want to be sure we get it right. What should we be thinking about?" #AskingForaFriend.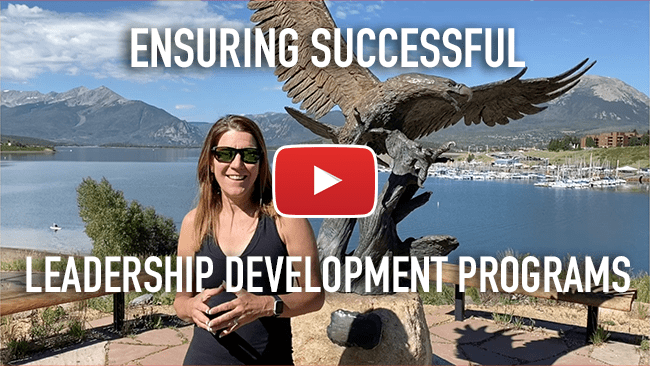 These next five questions are specific
to your live virtual leadership development program.
6. Does the program feature real-time interaction with facilitators and other participants?
There's no need to settle for a passive, webinar-style training program. It's too easy for people's attention to drift as they multi-task.
The best virtual leadership development features live engagement with your facilitators and real-time participant discussions.
7. Does our training partner have experience with live online leadership development?
Online facilitation is different than working in person. It requires different preparation, different ways of engaging participants, and the confidence to work through problems that technology inevitably presents.
Participants know when they're working with a rookie and will quickly lose interest and engagement. Make sure your leadership development partner has ample experience in training and leading remotely.
See Also: Authority Magazine, 5 Things You Need to Know to Successfully Run a Live-Virtual Event
8. Can our people take part via video?
Video isn't the same as being face-to-face, but for virtual leadership training, you'll want your participants to see one another and the facilitators.
When everyone can see one another, they pay attention and resist the urge to multitask. Plus, it gives facilitators and participants the opportunity to respond to confusion, enthusiasm, and questions.
Make sure your participants can appear on camera and be heard well. For more tech recommendations, check out How to Take Charge of Your Remote Meetings.
9. Will our online leadership program leverage technology beyond traditional classrooms?
One of the common mistakes with online meeting technology is to replicate a traditional classroom training environment.
For instance, in a traditional face-to-face program, only one person can speak at a time.
But when you leverage virtual meeting tools, you can have small groups meeting simultaneously and sharing their findings and questions. You can also integrate feedback in real-time via chat and whiteboards, in ways that would lead to chaos in an in-person situation.
Virtual learning also gives you the opportunity to break up your day-long training programs into smaller 60-90 minute sessions over several days or weeks. This gives more time to apply learning in between sessions.
Spaced learning over time with guided application between sessions is ideal for changing behavior. Leverage technology to help your leaders make the most of their training.
10. How will we create the head-space for people to focus on their live online leadership development?
When your manager physically goes to another location for training, it's obvious that they're gone.
But with online leadership development, those boundaries can blur. Does their Slack messenger still show them as available? What are the expectations for answering phone calls, emails, and instant messages?
To give your leaders the best experience, work with your partner to create best practices in how participants notify their peers, colleagues, team (and remind their boss) that they're attending the training.
You can create a consistent set of guideline reminders for every session that will help people to focus (eg: turn off your email, social media, office messenger – everything but the one way someone would contact you in an emergency).
Virtual Leadership Training is a great way to bring together managers from different geographies to learn, share best practices, and collaborate on new ideas.
Your turn. What would you add? What important questions do you ask before launching a leadership program?