Healing and Hope for Humanity:
Tomorrow Together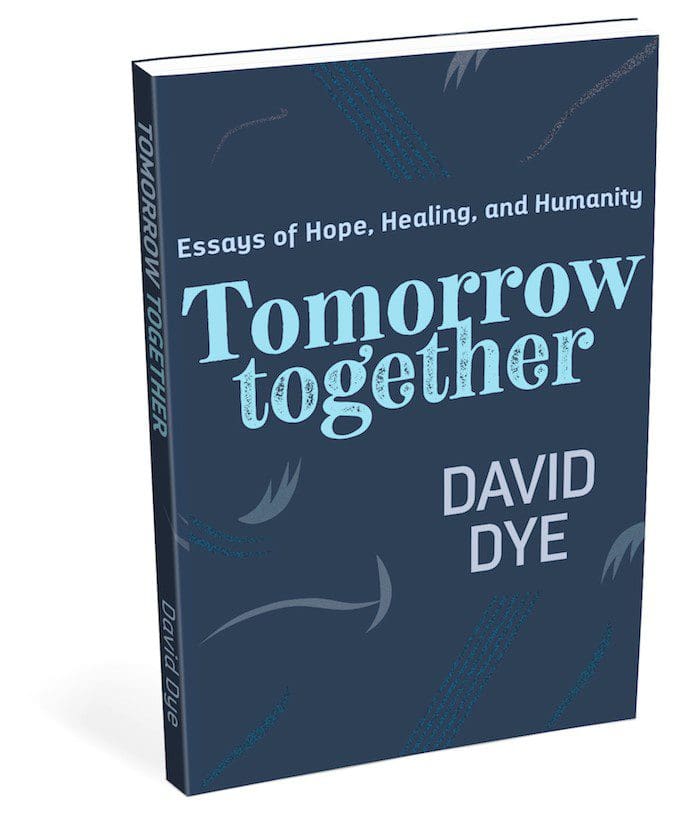 Tomorrow Together is a deeply moving collection of personal essays of healing and hope for humanity from David Dye, the best-selling author of Winning Well and Courageous Cultures.
The twenty-first century hasn't started the way many expected. We confront a potent mix of global pandemic, global warming, the resurgence of authoritarianism, white nationalism, and war that once again threatens to consume the planet. It can feel frustrating and hopeless.
But there is hope for humanity. We have the resources, wisdom, and most importantly: we have one another. Forty-two short essays that highlight moments of wonder, beauty, and connection.
Listen to the podcast episode >>
Writing with warmth and vulnerability, Dye is poignant, challenging, funny, and meditative as he explores friendship, Maryland crabs, island donkeys, mountain storms, the help of strangers, delivering papers, radio, odd advice, strong emotions, the miracle of a modern meal, gas stations, travel, adventure, and more.
Healing, and Hope for Humanity
Featuring insightful and engaging storytelling, Tomorrow Together reconnects the reader to the beauty and pain of our shared humanity, the wisdom of the natural world, and the hope that, together, we can build our better future.
Readers of Mary Oliver, John Greene, and Ross Gay will enjoy Tomorrow Together because it's a collection of observations, storytelling, and questions that are compelling, fun, and thoughtful. Pick up your copy today (or download these free excerpts).
Here's what people are saying about Tomorrow Together and its message of hope for humanity:
"This isn't just a collection of essays, it's a box of treasures. Your life will be substantially richer for having read it."  -Matthew Candelaria, Author
"A masterful collection of personal essays that will inspire you to believe in the power of connection and oneness once again. Dye's writing is personal, engaging, and reassuring with new, original stories that will make you laugh, think, and most importantly, feel. In the midst of unprecedented global change and uncertainty, this is a must-read for those ready to step out of the darkness, into the light." -MAINCREST Media
"Raw and beautifully written."
-Cynthia Stadd Orvis
"All I can say is WOW…deeply refreshing."
-Shannon McKain
"Best book I've ever read."
-Allison
Quotes, Images, and Shareables