Master remote team communication with variety and consistency.
If you're serious about becoming a better remote leader, you're going to want to become a master in the art of remote team communication.
Key initiatives, motivation, strategic priorities, updates, celebrations–there is so much to communicate with your team.
But here's the big question.
How do you know your messages aren't getting lost in the background noise of competing priorities, digital distraction, and hazy sameness of emails and instant messages?
Communicating What Matters Most
It's no exaggeration to say that every time you or your team form a memory, your brain changes. You literally build new connections (or strengthen existing connections) between neurons.
We also know quite a bit about how people build memories and retain information. As a leader focused on remote team communication, four of the most important principles are recency, repetition, recall, and emotion.
Recency
One way to spark memory is through recent experience. You probably remember what you had for breakfast today … but lunch three weeks ago is likely fuzzier.
Repetition
It's easier to remember what you encounter more often. Hear a song once and you might say "that's a nice song." Hear that song ten times and it might not leave your mind for a week–whether or not you want it to.
Recall
One way we strengthen memories and retain information is by accessing it. When you have to recall the information to answer a question or do your work, you are more likely to retain it.
Emotion
Emotion has a powerful effect on memory. If you reflect back on a time you experienced a strong emotion, you probably remember more about your surroundings. For example, I've been in many high school auditoriums, but I still remember details of the auditorium where I learned I'd won my first multi-state high school debate tournament.
Bringing it All Together: The Power of 5×5 Remote Team Communication
Effective leaders don't leave these memory enhancers to chance. You can build processes and plan your remote team communication strategies to leverage these characteristics of memory.
One technique to help you do this is our 5 x 5 Communication Planner.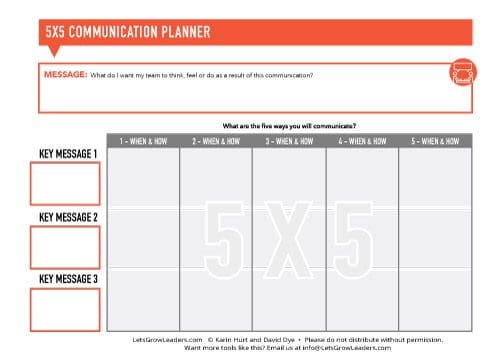 5 x 5 refers to communicating key messages five times, five different ways. "Five times" achieve repetition and recency. Five different ways can help with recall and emotion–particularly when you engage your team and get creative.
The first two or three elements of your 5 x 5 communication plan will be the standard ways you use consistently and people come to rely on. These might include team meetings, emails, project management software, and message threads.
When you extend beyond these and do something differently, that creates positive emotion: "Oh, wow, this is different and fun. This is important."
It can feel challenging to get creative and mix up your communication strategies when you're busy and tired. So, we made it easier.
Mixing it Up: 101 Remote Team Communication Techniques
We've been working with remote leaders around the globe to help them communicate clearly and ensure they and their teams align around what matters most. We've also asked them what's working and how they vary remote team communication to help keep everyone on the same page. Here's what they said:
Visual Reinforcement
Scrolling banners
Virtual backgrounds for MS Teams, Zoom, etc.
Items on shelf/credenza in the virtual background
Login messages on laptops
Splash screens when logging onto the company website
Physical whiteboard, chalkboard, or poster placed next to, or behind, you in a video call
Screen savers
Pop-ups on internal websites
Email signatures
A second monitor in your background scrolling the message or with a related image
Banner or ad on an internal website
Polls
Virtual desk drops
Quick recorded video message
Creating memories with a bit of fun
Client or customer presents to the team
Internal wikis
Music video
Riddles at the end of emails or agendas related to the topic
Have another leader recognize one of your team members or team for performance related to the topic
Temporary tattoos
Dress up in costumes to emphasize the message
#Hashtags
Video text messages
Gamification
Memes or fun graphics
An inspiration speaker related to the message
Animated GIFs
Songs
Write a poem
Cameo app (where a celebrity delivers the message)
Play a game related to the message
A humorous presentation or sketch
Telephone game–pass the message in a loop through the team
Text-based Games that Reveal the Message (eg Wheel of Fortune)
Games that reinforce the message (eg Jeopardy or Trivia-style with related content)
Theme music
Named group-chats or text threads
eCards
Internal competitions
Cross-team presentations related to the message or theme
Messages on (or with) Stuff
Send flowers or plants with the message.
Sending food (many leaders were very specific about the kind of foods including: pizza, pastries, cupcakes, frosted cookies, muffins, healthy snacks, goodie bags, meal-delivery services, coffee, and tea). Messages are either printed on or included with the food.

Send a book that emphasizes the message or has it written on the front cover 

Bookmarks
Swag gifts (Tchotchkes with key messages)
Personalized/inscribed beverage bottles with a message
Send a balloon with a deliverable or key message inside the balloon
Clothing with message printed on it (eg: hats, tee shirts, sweaters, jackets)
Print it on mugs or cups that are used in virtual meetings
Message in a bottle
Yard signs
Meetings
Rotate team members sharing the message in a meeting
Team members presenting to one another on key message / topic
Have a respected peer, colleague, or another leader share the message
Virtual coffee chats (supply the coffee/tea and invite to change camera view to something more casual.)
Virtual lunches
Meeting notes / summaries
Meeting agendas
Calendar invitations with key messages
Meeting pre-reading materials
Skip level meetings
Virtual walk and talks
Demonstrations
Old School Tried and True
A positive, encouraging start-the-day message from leader (recorded or written)
Email
MS Teams & Zoom Meetings & Messaging
Project management software (eg: Asana, Trello, Basecamp, Slack)
Phone calls
Text messages
Cell phone notifications
Voice message
Powerpoint
Physical mail–letters, greeting cards, postcards
Newsletters
Surveys
Thank-you notes (handwritten)
Press release
Vary the timing and context of routine messages
Acronyms related to the message (if you've read any of our books, you know this is one of our go-to favorites)
Tag lines to make it memorable
Social Media
LinkedIn (articles, posts, features, video)
TikTok videos (and ultimately, all social media channels were mentioned)
Online paid ads
Write and/or share articles related to the subject
Internal blog
Internal podcast
Social media spotlights celebrating related behaviors and accomplishments
Project Tracking
Action trackers
Project plans
Open issues lists
Storyboards
Calendar invitations
Micro-learning software
Shared documents
Status settings in collaboration software
Annual or project kickoffs
Your Turn
There's a starting list of remote team communication techniques. To improve your remote team communication, work on one or two items from the list that add variety and break up preoccupation.
We'd love to hear from you–what would you add to help leaders master this critical skill?