Ditch the Post-Mortem Meeting and Hold a Post-Project Celebration
If you're like most managers we talk with, you know the importance of a great post-mortem meeting. But unless your project ends in disaster, it's easy to skip the review and move on to the next priority.
As your team sighs with relief.
That's why I felt particularly inspired to share this "Asking For A Friend".
"Karin, I know it's important to do a post-mortem review after a major project, and yet it often turns out so negative. How can I make them more balanced and meaningful?" #AskingForAFriend
5 Ways to Run an Effective Post Mortem Meeting
If you struggle with this, you're not alone. Here's how to make your post-project meeting more impactful.
1. Stop Calling it a Post-Mortem Meeting
Nobody gets enthusiastic about a meeting that sounds like death. Calling it an "after-action review" isn't much better.
What can you do to change the tone and framing?
Try renaming your meeting to "post-project celebration."
Celebrate:
all the good things that happened with the project.
the relationships and how everyone supported one another.
what you learned.
This will help your team members feel comfortable and less defensive as they take on action items.
2. Hold the Post-Mortem Meetings Consistently After Every Project
What if you spent time EVERY TIME in a balanced review? Not just went something went wrong.
When your team knows what's coming, they'll be more observant and come better prepared.
And,  you'll avoid the stigma of the post-mortem being associated with disaster.
3. Invite Your Team to Design the Meeting
When you can include your team in meeting design, BEFORE the project starts, they'll be much more likely to look forward to the conversation.
Let them help you design a balanced agenda.
4. Include Everyone by Asking Three Opening Questions
What am I most proud of?
Who was helpful to me (and why)?
What is my biggest lesson learned?
5. Meet Along the Way
Want an easier post-project conversation? Don't wait. Mini check-ins go a long way in preventing the tough stuff from becoming the tough stuff.
What would you add?
Join the Asking For a Friend Conversation on LinkedIn
Each week I tackle a very real question that's come up in one of our leadership keynotes, training programs or through conversation. I'd love to connect with you on LinkedIn to join the conversation (we usually have great dialogue).
You can also submit your Asking For a Friend Question here.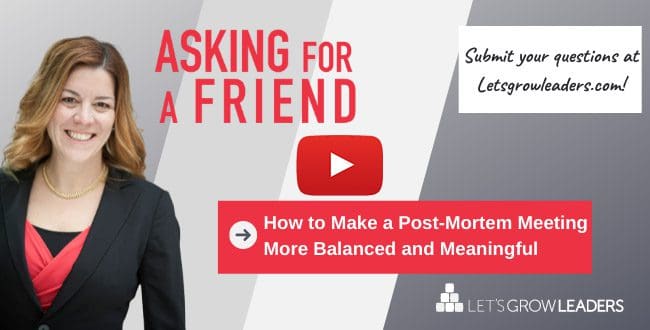 You can follow this AFAF conversation on LinkedIn here.
See Also:
6 Reasons Even the Best Project Managers Fail (and what to do instead)
The Simplest Success Formula Ever
How to Run an Effective Post Mortem (Summary)
Stop calling your post-mortem a post-mortem (call it a celebration)
Be more consistent (hold them after the good projects too)
Invite your team to improve the design
Ask great opening questions
Discuss lessons learned along the way (not just after the project is over).