7 Ideas to Inspire a Better Virtual Kick-off Meeting
If you're neck-deep in planning your virtual kick-off meeting like so many of our clients, great! Your team needs this moment more than ever. In this extraordinary year, a virtual kick-off meeting is a great way to close this chapter and give your team a moment to reflect, connect, and feel the anticipation and hope of what's to come.
And yet, sadly we're hearing other folks say, "There's no way we can do a virtual kick-off meeting. Just like everything else, we're putting it on the list of 'Covid- canceled.'"
Before you wring your hands and wait until next year, consider this.
One of our clients just reported that this year's virtual kick-off meeting actually received better ratings from his global team than last year's event (last year's was held in-person, flying people in from all over the world for days of interaction, strategy, and fun).
He had gone out of his way to be real and vulnerable, established a compelling and realistic vision of the future, created tactile experiences, and leveraged the heck out of break-out rooms for a dynamic conversation that tapped into the best I.D.E.A.s from every team member. He even found ways to create a virtual water cooler experience.
Do people wish they could have gathered in person? Of course. Will they gather again when they can? Yes, and it will be that much sweeter. And, my guess is they'll be telling stories for years to come about the ingenuity and effort of this year's virtual experience.
7 Ideas to Make Your Virtual Kick-off Meeting Great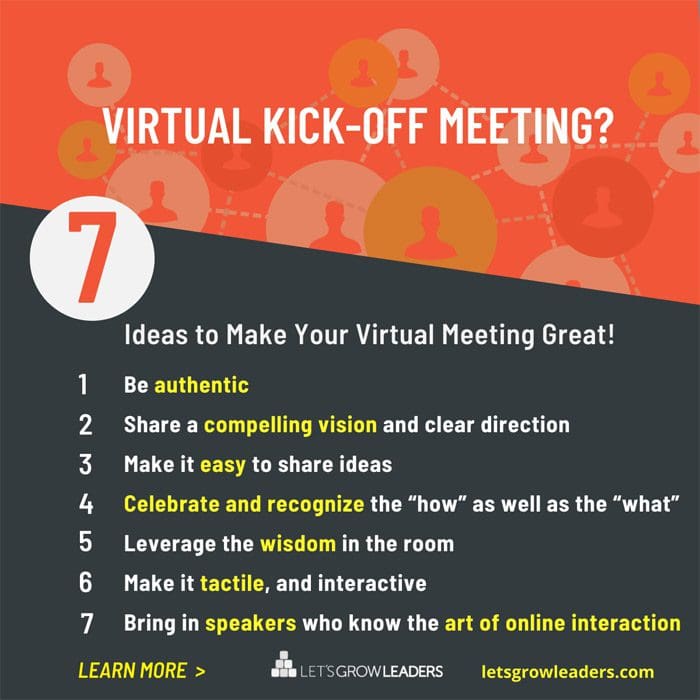 Of course, no one wants to add one more boring virtual meeting to the mix.
But with a little effort and creativity, you can plan a truly memorable event.
Consider these seven ways to enhance your virtual kick-off.
1. Be authentic
Telling authentic stories with a bit of vulnerability is the secret sauce to building trust and connection at these large events. It's important to close the distance between the executive speakers and the team by showing up real. And it matters even more in a virtual kickoff meeting.
The good news is, it's not that hard. If your kid comes through with a PopTart, bring them on your lap for a minute. If the parakeet lands on your head, that will make for a good laugh. Let them see the human in you, and give your team opportunities to be human too.
Share what you're grieving and acknowledge the hardships and losses the team has endured.
Your team will engage with your inspiration and fun, once they know that you get it and that it's been hard for you too.
2. Share a compelling vision and clear direction.
The antidote to uncertainty is clarity. Provide a directional path forward even if you have some contingencies in the mix.
Be clear about what matters most and why. Ensure your team understands what your vision means for their role in very real and compelling terms. And, check for understanding to ensure that everyone leaves your event knowing what to do next and why it matters.
3. Make it easy to share ideas.
The biggest challenge with remote teams is the lack of a virtual water cooler. If your team is like most we work with, they're longing for creative, spontaneous collaboration and to share what they've learned during this fast pivot.
Our FREE I.D.E.A. Incubator Guide can help you identify where you most need some great ideas and then help your team brainstorm, vet their ideas, and articulate them in a clear and compelling way.
4. Celebrate and recognize the "how" as much as the "what."
As you think about who to recognize in your virtual kick-off meeting, if there was ever a year to think beyond the numbers it's now. Who truly lived your values? Who stepped up to support struggling team members? How about the unsung heroes behind the scenes working long-hours to support your fast pivot?
During times of stress and change, it's hard to over-celebrate. Take time to make a ruckus and let people know how much you appreciate them and their hard work.
5. Leverage the wisdom in the room.
Your team has extraordinary examples of doing the best they can with what they have from where they are. It's likely that many of your team members have become "experts" in areas they never even dreamed about: balancing work with homeschooling; running effective remote team meetings; creative remote team communication …
What if you pulled together "expert" panels from across your teams in virtual breakout rooms and your virtual kick-off attendees pick the topics they are most interested in attending?
6. Make it tactile.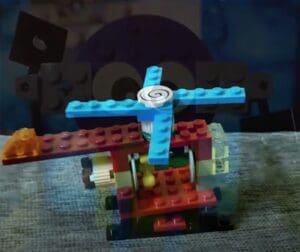 Yes, it's a pain in the neck and not cheap to send a virtual kick-off care package to your team, but if you can pull it off, the effort goes a long way. One of our clients sent a box with all the swag they would have given in person—tee- shirts, a journal, and Legos to build metaphors of what it means to have a Courageous Culture.
Everyone wore their tee-shirt and laughed as they talked about courage, values, and practical ways to encourage micro-innovation and speaking up as they built metaphors out of Legos in breakout rooms.
7. Bring in speakers who know the art of live-online interaction.
Virtual kick-offs require extra effort to keep people engaged. Where some motivational keynote speakers might light-up the stage in a big ballroom, keeping people on the edge of their seat, it's more challenging to hold people's attention over a Zoom screen.
When bringing in an outside expert, be sure they know how to leverage interaction to draw your team into the story and keep them focused.
Your Turn:
What best practices have you seen in virtual kick-off meetings and large team events?  What's worked well for you? We'd love to hear your stories.
And of course, if you are planning a virtual event, we'd love to talk with you about your goals and share some ideas. Just drop me a note at [email protected]
More Articles to Help You Plan Your Virtual Kick-Off Meeting
Authority Magazine: 5 Things You Need to Now to Successfully Run a Live Virtual Meeting
End of Year Meetings: How to Make Yours Remarkable
6 Mistakes to Avoid in Your Townhall Meeting
How to Start the Decade in Deeper Conversations
(From Zoom) Planning a Successful Virtual Sales Kickoff Event