Hold Deeper Conversations With Your Team
As we start a new decade, what if you took a minute to have some deeper conversations with your team? In addition to your kick-off meetings and goal setting sessions, what if you also paused to have a deeper conversation to build trust and connection, and inspire one another to something bigger?
I've designed this conversation starter to help you go a level deeper with your team.
Ways to Use This Tool
Ask each team member to complete one section of their choice to start your deeper conversations. Note: Giving them a choice enables them to pick the conversation they are most inspired (and feel confident) to have.
Complete one of the sections yourself as well and be prepared to discuss (your team needs to know you're willing to be vulnerable too).
Have a mutual exchange of sharing your responses in your one-on-one developmental discussions or as part of a teambuilder or staff meeting.
Deeper Conversations to Help Your Team B.E.C.O.M.E. More in the New Decade
Have each person pick one section (e.g. Boldness, Openness, or More) and answer the questions before coming to your one-on-one or team session. This will work best if people have had a chance to think through rather than feeling put on the spot. Of course, now that you get the gist, feel free to modify and make up your own questions. If you do, I'd love to hear them.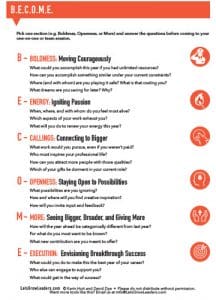 click image to download the B.E.C.O.M.E. model for holding deeper conversations
B- Boldness: Moving Courageously
What could you accomplish this year if you had unlimited resources? How can you accomplish something similar under your current constraints?
Where (and with whom) are you playing it safe? What is that costing you?
What dreams are you saving for later? Why?
E- Energy: Igniting Passion
When, where, and with whom do you feel most alive?
Which aspects of your work exhaust you?
What will you do to renew your energy this year?
C- Callings: Connecting to Bigger
What work would you pursue, even if you weren't paid?
Who most inspires your professional life? How can you attract more people with those qualities?
Which of your gifts lie dormant in your current role?
O-Openness: Staying Open to Possibilities
What possibilities are you ignoring?
How and where will you find creative inspiration?
How will you invite input and feedback?
M-More: Seeing Bigger, Broader, and Giving More
How will 2020 be categorically different from last year?
For what do you most want to be known?
What new contribution are you meant to offer?
E-Execution:  Envisioning Breakthrough Success
What could you do to make this the best year of your career?
Who else can engage to support you?
What could get in the way of success?

Other Resources to Have Deeper Conversations With Your Team
Compassionate Conversation Starters: How to Help Your Team Connect More Deeply
4 U.G.L.Y. Conversations to Have With Your Team Before Year-End
7 Icebreaker Questions to Melt Frustration and Build Trust