Save days, weeks, even months of lost time
with a quick check for understanding.
What is a Check for Understanding?
All communication involves a send and a receive. A check for understanding is a simple confirmation that the message you intended to send is what the receiver heard.
In other words, is your team picking up what you're putting down?
You ask your team to repeat back what they heard you say in a friendly, non-confrontational way. When you check for understanding, you are taking ownership for the effectiveness of your communication.
For example, "Thanks so much for your time today. I just want to ensure we're all on the same page for what we're each going to do next. What are the three follow-up items we agreed to?"
Or…
"We covered a lot today. I just want to be sure my communication was clear so you can explain this new strategy to your teams. Who can recap WHY we're changing direction here?"
Why is a Check for Understanding a Powerful Leadership Communication Best Practice?
Of all the leadership communication techniques we share in our leadership programs, the check for understanding always rises to the top as one of the easiest to do, while having the fastest impact. It's why we include it as one of the 6 leadership competencies you can't lead without in all of our foundational programs.
Why? Because we always make sense to ourselves (if we haven't been drinking 😉 But it's surprising how often the meaning of a message can get lost in translation.  When you can check for understanding, you ensure that everyone is on the same page.
Not Just For Leaders
The check for understanding is not just for leaders. Communication is a team sport. We encourage the leaders we work with to teach this technique to everyone on their team and empower them to use it.  It's even more powerful when everyone in the organization uses this as a common language and technique. It creates clarity and saves A LOT of time.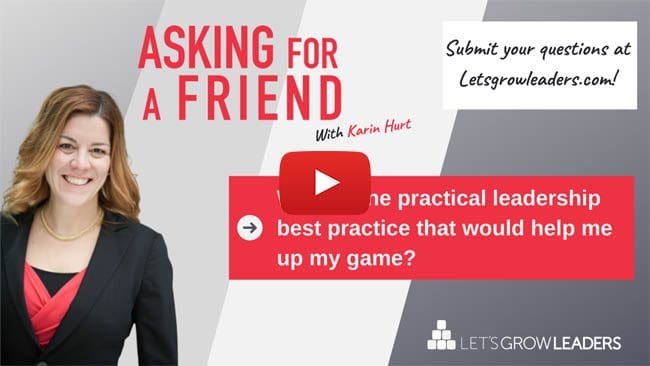 How to Check for Understanding
There are two ways to check for understanding: actions and emotions.
Check for Understanding #1:
The action-focused check for understanding ensures a mutually shared understanding of the activity. It looks like this:
"Let's do a quick check for understanding—what are we doing after lunch?" "Yes—we're all taking out the trash." "And why are we taking it out?" "No, it's not because we've done anything wrong—it's because we've got another group in here after us and it's going to smell awful if we leave it in the trash—and that's what we'd want them to do for us."
Check for Understanding #2:
I learned the importance of this technique from one of my favorite bosses early in my career, Ray Davidson. 
I was such an enthusiastic gung-ho leader I would end my meetings with such a flurry of gratitude and excitement that it made it really hard for anyone to challenge me or express their concerns. "Oh my gosh, thanks so much everyone this project is going to be fantastic. I'm so excited. Let's go do it!!"
He taught me that I could build greater psychological safety if I calmly checked in with what people were really feeling.
The emotion-focused check for understanding gives your team a chance to process what's happening and surfaces any issues that might arise. It looks like this:
Leader: "Great meeting. I'm super excited about this strategy. Before we end, I'd like to ask, how is everyone feeling?"
Team member 1: "Well, I'm excited about it too, but I'm also worried about how we will do this considering our other priorities?"
Team member 2: "I'm feeling overwhelmed. These are wonderful ideas and I really want to do them, but I don't know where to begin."
Once you know these issues exist, you can help your team move through them, adjust expectations, or remove roadblocks.
Your turn.
What are some of your favorite leadership communication best practices?