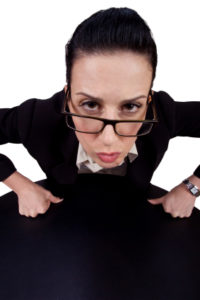 Apparently this is an attractive and dangerous fantasy.   This month the Harvard Business Review LinkedIn Discussion Forum has been visualizing "the ideal boss."   The discussion has attracted over 300 comments from thought leaders around the globe.
Top 10 Characteristics of an "Ideal" Boss
As I read the comments, I did a rough stroke count of the main ideas (not a scientific content analysis, and I invite other interpretations).  With that said…
Apparently we want our boss to…
engage us in a compelling vision
have the utmost integrity
be authentic and transparent
treat us kindly and fairly
develop, mentor, and coach us
empower and trust us
communicate clearly
motivate us
be competent and knowledgeable
have a sense of humor
Quite a list.  As leaders, all of these are nobel characteristics to strive toward.  Have you ever had a boss that did all these things, all the time?  It's a bit like looking for Mr. Right… you can have a great list of ideal characteristics…
…but in real life people show up messy.
Leaders are people.  Therefore your boss will never live up to all these expectations.
In Defense of the Imperfect Boss
I bet you've learned a lot from great bosses.  I hope your boss has all the characteristics on the list above.  But if they don't, that may be even better.   Don't get hung up in false hopes, fantasies, and disappointments.
Instead, learn from the imperfection.
Think for a minute about the worst bosses you've ever had.
That insecure guy
Ms. disorganized
Joe poor communicator
Jane risk averse
Mr. big talker
Ima too busy
?
What did they teach you about leadership?  What did you learn about yourself?   How did your skills grow?
Did your imperfect boss grow along the way?  What did you learn from that process?
We can't choose our bosses any more than we can choose our relatives.  Instead of getting frustrated, consider your bosses imperfections as a blessing.
Why have they entered my life?
How can we help one another to grow?
See Also: