Better Recognition Starts With More Strategic Contribution
You care about your team and the work they're doing. They're working hard. And if they're like so many teams we work with, they yearn for better recognition. They want to know their work matters and that you (and your boss) appreciate all they do.
So how do you help your team's performance stand out? How do you ensure that they not only get the recognition they crave, but their performance shines so strong it's difficult to ignore? Better recognition does more than improve morale, it leads to better creativity, innovation, and courage.
For Better Recognition: Start By Differentiating Your Team's Performance and then Bring on the Spotlight
Differentiate Performance
1. Focus their efforts on what matters most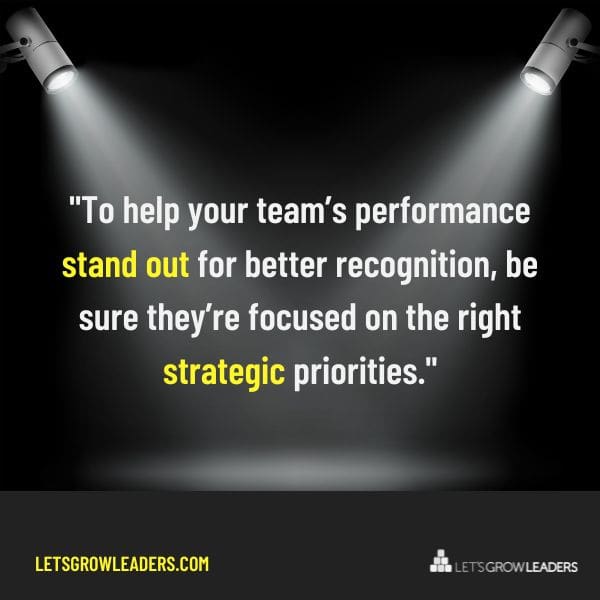 Have you ever noticed it's not necessarily the times in your career that you worked the longest or hardest that led to better recognition? Sure sometimes there's a correlation, but chances are it was more a matter of finding that sweet spot where your skills and talents matched a strategic business need. And, strategically spending your time doing what mattered most.
If your team has thirty-seven priorities on their plates, they can't exceed expectations on all of them. Talk to your manager, know what matters most, and be sure you help your team nail that.
To help your team's performance stand out for better recognition, be sure they're focused on the right strategic priorities.
An easy way to do this is simply to ask your manager.
"What's the most important thing my team needs to accomplish to really impact the business this year?"
"Imagine we're sitting here this time next year, and you're blown away by our team's performance… what would we have accomplished?"
"I know all of these metrics matter, but which matters the most? and why?"
2. Encourage them to fix something broken
What's not working that's driving everyone crazy? What process could be made more efficient? What can your team do to improve the customer experience (not just once) but systematically? How can your team make work more efficient not just for them but for their peers as well? Help them to find something broken and fix it.
3. Help them build deeper cross-functional relationships
Great work never happens in a vacuum. And some of the best recognition comes from peers.
Help your team invest deeply in developing peer relationships in other departments AND with one another. Help them be better recognition givers.
Nothing frustrates senior managers more than dysfunctional turf wars that distract people from doing the right thing for the business and for your customers. Your competition is not the department down the hall, it's mediocrity.
4. Keep them growing
Some people have 10 years of experience and other folks have 1 year of experience 10 times. Even if your team is not changing roles, be sure they're constantly learning and growing. Have a clear development plan that stretches them and helps them contribute more to the business each year.
One of the best ways to recognize your team is to continue to invest in their growth. And your team will stand out
And Then, Give Your Team an Opportunity to Shine
Once you've mastered the first vital element for better recognition, ensuring there's something important to celebrate, the next step is giving them opportunities to shine.
5. Encourage executive visits and skip level meetings
When your team has something to celebrate, be proactive in including your manager, other executives, and peers in the conversation.
"Hey, we'd love to show you what we've been doing this quarter. Can you join us for an in-person, or virtual ops review?"  If executive visits or skip-level meetings aren't a natural part of your culture, this guide executive visit guide is a great place to start. 
6. Take your team on physical or virtual field trips for additional exposure and perspective
Of course, you don't need to wait for people to come to you for better recognition. You can take your show on the physical or virtual road. Set up a time for your team to meet with other teams and departments to share what they're doing and to gather feedback to help strengthen collaboration.
7. Help your leaders become "leader teachers"
One of the best forms of recognition is to be asked to teach what you know to others.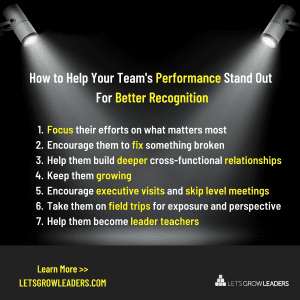 Give your managers an opportunity to share their expertise with members of their own team and others in the organization. We do this in our long-term leadership development programs all the time through challenger groups and other techniques (learn more here).
Our clients tell us that's such an important part of sustainable culture change.
You get more of what you encourage and celebrate and less of what you ignore. Take time for deliberate, deeper, and better recognition by giving your team opportunities to make a bigger impact, showcase their contributions, and build deeper relationships along the way.
How to Give Your Team Better Executive Exposure
How to Prepare Your Successor For Success
Your turn. What are your best practices for better recognition?