What to say next when you're overloaded at work (without sounding whiny)
Ever found yourself cackling at the monstrous to-do list glaring back at you, thinking "Right, that's not happening," only to gulp back a sob as you realize none of it's optional? You're overloaded at work. Stuck in a world where productivity meets panic and trying to be a 'team player' feels like a conspiracy against your sanity.
Clear communication and unbridled curiosity are the name of the game when you're overloaded at work. You want clarity about what's most important and why. And curiosity about how to approach your work differently.
The Strategic Sort: Deciphering What Matters Most
Picture this: Your boss slides over a scroll of 27 KPIs and you're playing a corporate game of 'Which Metric is Least Tragic?'. Identifying the expendable can be surprisingly quick once you start that dialogue. Embrace the wisdom of knowing what 'winning' looks like. With the finish line in sight, you can innovate without fear, tossing out time-saving hacks like confetti.
A few powerful phrases that can help.
"What's most important?"
Focus is the antidote to overwhelm. Be sure you know the MITs (most important things) you need to accomplish at a strategic and tactical level.
"Paint me a picture of the victory lap."
One way to get curious about alternative, time-saving approaches is to be sure you have a shared understanding of success. With success clearly defined, you can feel more empowered to share ideas for new ways of doing things.
The Help-Seeker's Script: How to Holler for a Helping Hand
And, here are a few powerful phrases to help get past that feeling of overload by asking for help.
"Will you lend a hand?"
It's a simple and criminally underused phrase when you're overloaded at work. If you're up to your neck in it, asking for help isn't a white flag; it's a strategy.
"I have an idea."
Constraints are the gateway to creativity. If you're feeling overwhelmed at work, look for new ways of working, share your ideas, and ask for support to make it happen.
"Here's what I need."
When your boss asks what they can do to help, have an answer.
For Managers: Powerful Phrases for Supporting Your Overwhelmed or Overloaded Team
First, if you're a manager, here are a few frequently uttered unhelpful phrases. Please don't say these things:
"We just have to do more with less."
"The boss says . . ."
"We're just lucky we have jobs."
Those phrases don't empower people or lead to productive solutions. And the worst thing you can hear when you're overwhelmed is the equivalent of "Suck it up, buttercup." As a manager, you want to do what you can to prevent the snowball of overwhelm from picking up speed as it rolls downhill. Your team needs options before the overwhelm leads to burnout.
Say This Instead
If you're a manager, the previous phrases will work well to get the support you need from your boss. Here are a few bonus phrases you can use with your team.
"This is not okay. That can wait."
We can't tell you how many times employees have come to us feeling overloaded at work, and when we encourage them to talk to their boss, the hours the employee works or the level of effort they give to a project shock their boss.
"I don't want you working all weekend." "It's not okay that you missed your child's dance recital." Sometimes, high-performing employees need their manager to tell them when to stop working. "Oh, you don't need eighteen pivot tables, just some back-of-napkin math will do."
"Let's figure out a different way to do this."
It's easy for your team to get stuck in old ways of doing things, particularly if they think that's what you want. In our research for Courageous Cultures, 67 percent of respondents said their manager operates around the notion of "this is the way we've always done it."
Teach your team to be curious and to look for alternative solutions.
"I really appreciate you and all you are doing."
Feeling overwhelmed is discouraging. Feeling overwhelmed and underappreciated is demoralizing. When your team is under stress, particularly if some knucklehead told them to "do more with less," you can't say "thank you" and "I see you" too much.
When you're feeling overwhelmed, start with better clarity of what matters most and why, and get curious about alternative ways of working.
More Useful Articles to Help When You're Overloaded at Work
Help for the Overwhelmed Working Manager (podcast)
How to Get the Support You Need When Your Boss is Overwhelmed
How to Say No at Work: Powerful Phrases to Stand Your Ground.
Available for Pre-Order Now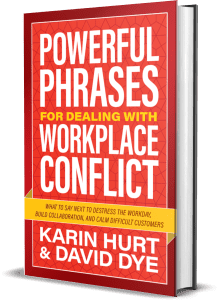 If you've noticed we've been talking about workplace conflict and collaboration a lot recently, it's because we've been doing a lot of research, learning from people all over the world about their biggest workplace conflicts and what they would do differently next time. More on that research here.
In the meantime, our new book, Powerful Phrases for Dealing with Workplace Conflict: What to Say Next to Destress the Workday, Build Collaboration, and Calm Difficult Customers is available for pre-order now, and we're working on building our speaking tour for Spring 2024 (you can take a quick peek at some of our new conflict and collaboration programs here).
"Your must-have roadmap for courageous conversations at work. Karin and David give you the tools, techniques, and inspiration to turn stress and frustration into career-defining moments of leadership and innovation."  –Dorie Clark, executive education faculty at Columbia Business School and WSJ bestselling author of The Long Game.