To Lead Highly Productive Teams: Keep Them Focused on What Matters Most
If you want to increase productivity at work, maintain a relentless focus on what matters most in four areas. First, ensure your team understands their big strategic priorities – the outcomes that matter most for the organization. Next, get clear about the specific initiatives and projects that support the strategic priorities. Follow up with an ongoing review of the specific, observable activities that will make those initiatives happen. And finally, build a foundation for success by helping your team understand and master the daily habits that create results. 
When There's Just Not Enough Time: Beyond Time Management
"I just don't have time. There is so much to do that some days I just want to give up!" – Halisee, Software Engineer
Halisee called us looking for help with the overwhelm.  Between her own important tasks, the needs of her team members, and her supervisor's expectations, she'd been working 60-hour weeks, and she felt sick and strung out.
"My calendar is wall-to-wall meetings, often with two or three appointments competing for the same window of time. And it's only gotten worse now that I'm working from home. We have MORE meetings, not less!"
Have you been there? If you're like many leaders we work with, you face an unending stream of information, problems to solve, decisions to make, fires to put out, interruptions from email, texts, phone calls, messaging apps — and that's not to mention the strategic projects you want to work on to build a better future. It can seem like you'll never get ahead. Productive leaders focus their time and energy on the activities that produce results and build relationships despite the crush of activity – or perhaps it's not "despite" the demands for their attention, but because they embrace the challenge.
To Increase Productivity at Work, Embrace Your Limits
There will always be more you could do than you possibly can do. To stop feeling overwhelmed, start by accepting that frustrating fact. We call this approach to time "infinite need, finite me." At any moment in time, there are literally thousands of things you could do, but you get to do only one. That's it. One. Before you can focus your time and energy on results, reach an understanding with yourself that you can do only one thing at any given moment.
Don't talk yourself into thinking you can really make a difference on that muted conference call while you also try to help the employee who needs real advice—all while responding to a text escalation on your phone. You won't give any of those situations the attention they deserve.
Of course, you understand these limitations intellectually, but when you truly internalize and make peace with the fact that there's always another thing, it frees you from the overwhelm. You can't do it all and you never will. So, stop trying. This is the freedom to focus on what matters most.
To Lead Highly Productive Teams: Cultivate an M.I.T. Mindset
As you free yourself from the demands of doing everything, the natural next question is, where will you focus? One hallmark of productive leaders is that they focus on what matters most. We call this commitment to do what matters most "Mind the M.I.T." – that is, Mind the Most Important Thing.
Infinite need, finite me. Mind the M.I.T.
There are four levels of M.I.T. to consider: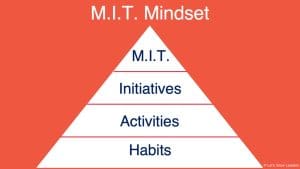 M.I.T.s (Strategic Outcomes)
Initiatives
Activities
Habits
1. M.I.T. Strategic Outcomes
When you look up and view the horizon, where are you going? What is the most important outcome your organization or team will achieve in the coming years? Typically, you'll have no more than three answers to that question. These are the big objectives with time frames measured in years. If you're leading a team within an organization, your strategic M.I.T.s often come straight from the organization's strategic plan. Strategic M.I.T.s are the North Star that helps you navigate the complexities of day-to-day business.
2. M.I.T. Initiatives
Every strategic objective will have one more initiative or project that helps the organization achieve that strategic M.I.T. There may be several of these initiatives and projects for every strategic objective. These initiatives are usually shorter-term and there is a moment when it will be completed.
For example, if your company wants to improve customer retention, there may be several initiatives including implementing a new customer management software, improving customer support quality, and a "plus one" strategy to deliver an unexpected bonus service or product to existing customers. Each of these initiatives is time-bound – it has an end date. Once the new software is implemented, everyone is trained, and it becomes the default way of doing business, it no longer requires focus as an intiative.
Your strategic outcomes might take a year or two to achieve. The initiatives that support them will often have timeframes of a few weeks to several months.
Productive leaders maintain a relentless focus on the initiatives and projects that are their responsibility, ensuring that they make regular progress toward them. If you have a clear project plan, you may clearly know your short-term objectives. If not, to identify your short-term M.I.T., choose a unit of time and ask, "In this week/month/quarter, what is the most important thing we can do to move us closer to our Strategic M.I.T.?"
3. M.I.T. Activities
Activities are the one-time actions you or your team must take in order to move initiatives forward. These are often specific steps in a project plan.
Back to the customer retention example. One of the initiatives is to implement new software. So you may have several activities related to this initiative:
Schedule training for your team
Demonstrate and model the new software during three team meetings
Schedule observations to support your team in working through questions, bugs, and how-tos.
Acknowledge early adopters and celebrate their results
All these activities will help your team successfully implement the new software. And, they are one-time activities. You don't need to schedule training repeatedly, but you do need to make sure you get that done sometime in the next month.
What are the M.I.T. activities that you are your team are responsible for in the next 4-6 weeks?
4. M.I.T. Habits
At the heart of productive leaders and their teams is a clear focus on the day-to-day observable habits that directly lead to results. These are three or four specific, visible actions that repeat weekly, daily, or even many times each day. When you establish a consistent cadence of these 3 to 4 critical habits, you build a foundation for success. Then you can incorporate the one-off M.I.T. Activities without losing focus on the core behaviors that allow your team to be great.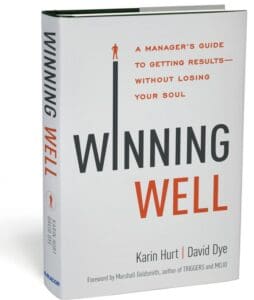 What are the three or four observable habits that get you where you need to go? They may repeat weekly, daily, or even many times each day, but a clear understanding of the day-to-day behaviors that drive success is critical.
M.I.T. Mindset Example
To get a sense of how the M.I.T. Mindset works in practice, let's look at another example outside of work. Let's say you want to improve your connection with your mother. Your strategic outcome is a "more connected relationship with Mom."
Moving down to the foundational fourth level of M.I.T. Habits, you might determine that calling your mom is a weekly success habit. So you schedule that weekly call. When confronted with a busy weekend, you ensure that you find time for that call because it's an M.I.T. habit.
Then you move to level two and choose some initiatives. For example, you might choose to: schedule a vacation trip with Mom, celebrate her birthday with the extended family, and work with her to create a family history book that will be a gift for the holidays.
Each of these initiatives will have specific activities that go with it (as well as a clear finish line by when you want to complete it). For example, "Call your brother and sister to schedule time for the birthday celebration." Or, "Get everyone on a call to choose the dates and destination for the vacation." And "talk with Mom about various eras of family history." This final activity you might be able to combine with your weekly habit of a phone call. There would be several more activities for each of these initiatives, but these get you started.
The habits are your foundation. The activities make the initiatives happen. And the initiatives lead to your strategic MITs.
Your Turn To Increase Productivity at Work
Managers who've been through our leadership training tell us this shift in focus and prioritization of behaviors has changed the game for them and significantly upped their productivity at work. The M.I.T. becomes part of their daily vocabulary. Consistent reinforcement like "Our M.I.T. this quarter is …" or "What's your M.I.T. today?" keeps everyone focused on what matters most.
We're curious. When you think of improving productivity at work, what's your M.I.T.? What are the most important behaviors that will help you get there? What daily behaviors will help your team be more productive?
See Also: