Why All-Hands Meetings are so Important (Particularly Now)
Now that "You're muted'" is the catchphrase of the decade, having a great all-hands meeting or remarkable company offsite is a great way to foster human-centered collaboration. Getting your team together for a strategic team event, especially in person, isn't just about getting everyone on the same page. It's the ROI that comes from curated conversations and spontaneous interactions, those electric moments of innovation that happen when your team is in the same room.
A side conversation can lead to the next big idea or micro-innovation, and a shared laugh can forge a bond stronger than any Slack thread. While virtual tools are invaluable, there's something about gathering, and feeling the room's energy, that can supercharge a team's cohesion and creativity.
What we're noticing in the most remarkable all-hands meetings, is the collective exhale when people get a chance to "FINALLY" be in the same room. We constantly hear, "We're doing so well with our office occasional/remote team, but gosh, I really miss THIS! It's hard to do THIS on Zoom."
Of course, hosting an all-hands meeting or company offsite can be a significant investment of time and money, particularly if you're having people travel in. So it's important to make your event remarkable. Let's talk about some practical ways to do that well.
5 Proven Best Practices to Make Your Company Offsite or All-Hands Meeting Great
Whenever we're involved in helping our clients plan an all-hands meeting, company offsite, or strategic leadership event, we always start with this question. "How do we design this event so that people walk out the door and say, "NOW THAT was a fantastic use of our time!"
Here are a few of our favorite best practices. We'd love to hear yours!
1. Make it Remarkably Easy to Share What Works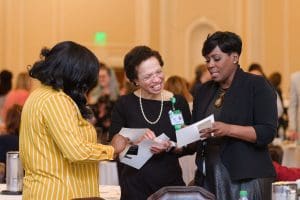 One of the HUGE advantages of bringing your team together for an all-hands meeting, end-of-year meeting, or company kick-off, is that every person in that room has something they're doing that they're proud of, and others probably haven't heard about.
Now that you have them in the same room, one of the best things you can do is give them an opportunity to share them.
We like to do this right at the start of an all-hands meeting for a few reasons. First, it's amazingly high-energy. People love to talk about what they're doing well. Structured best practice sharing is a great way to ensure people get some tangible, practical takeaways in the first thirty minutes of your event.
Also, if you have any skeptics in the room, you've already tapped into their wisdom, so they're more likely to be open to learning from others throughout the day.
One Practical Way to Share Best Practices
One easy way to do this is to give everyone a card to record and share their best practice. You invite them to share something general like "their leadership best practice." Or, you can get more specific by adding a  "for ________" (insert where you need best practices or a prompt that goes with the theme of your all-hands meeting or company offsite).
For example:
"Best practices for fostering trust and connection"
… "for ensuring an amazing customer experience."
… "for attracting and retaining talent."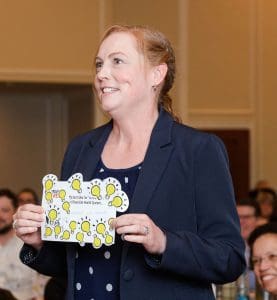 Then give everyone stickers to "vote" for the best practices they like the most. Depending on the size of your team you can then give people 10-20 minutes to talk with as many people as they can, exchange best practices, and "vote" for their favorites.
Note, the larger the group, the more time you should allot, as people get very excited about talking with people they've not yet met or haven't seen in a while. We've done this exercise with up to 700 people.
Once your team has a chance to exchange ideas, invite the people with the most votes to share their idea with the larger group (you might even want to recognize them with a small token of recognition). For example, people often choose one of our leadership books as a thank-you for their inspiration.
2. Translate Strategy to Practical Actions and Behaviors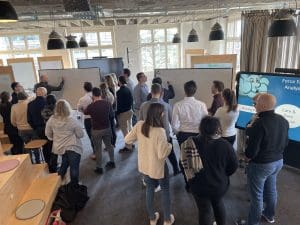 All-hands meetings, company offsites, and leadership events are a GREAT time to talk strategy – where you're headed and most importantly why it matters.
What's missing from many of these meetings is giving people time to marinate in the "how."
One way to think about this is to not just talk EBITDA, but get real about "what I need from ya."
Start by having your senior leaders share the strategies and the why behind them. And then, get people really thinking and talking about the practical ACTIVITIES, BEHAVIORS, and HABITS that will make the biggest impact.
One way to get to do this is through a proven technique called a Force Field Analysis. Where you invite groups of employees to work with a key strategic initiative and talk about the "driving forces" (that will help your strategy or initiative be successful), and "restraining forces"(obstacles that might get in the way).
And then, most importantly, have the team identify practical, tactical habits, behaviors, or initiatives they could do to leverage the driving forces and overcome the restraining forces.
3. Make Space to Share Practical, Usable, Remarkable Ideas
One of our favorite techniques to use in all-hands meetings, town halls, or leadership events is to host a Team Innovation Challenge (or Fishbowl Competition– think Shark Tank, only friendlier.
Your team works with a few of your strategic initiatives and uses our Courageous Cultures I.D.E.A. Incubator process to come up with and pitch practical ideas to the executive team. You can learn more about this process here and or watch the video below. Even better, drop us an email and we can set up some time to talk you through.
4. Encourage People to Talk About the Tough Stuff
One of the biggest complaints we hear about all-hands meetings and company offsites is that executives don't seem to be in touch with the realities of actually implementing the plans that are presented. Or, people don't feel safe, to speak up and share what's on their hearts and minds.
Of course, you want to weave Q&A into your day. We also recommend finding a fun and easy way for people to submit their questions anonymously for your executive team to answer.
We often do this by putting "Asking for a Friend" cards on every table, so people can record their questions as they come up throughout the day. And then facilitate an executive panel toward the end of the day.
5. Make it Easy to Follow-Up and Follow Through
Of course, the true ROI comes from what happens after your all-hands meeting or company offsite. One best practice is to leave time toward the very end of the meeting to have people meet with their teams to talk about practical takeaways and the next steps. It's also a good time to "schedule the finish" with a time to meet again, to continue their planning work after people have had time to marinate on what they've heard and what they've learned.
If your all-hands or company offsite is for leadership only, then an important activity is to help managers articulate what messages they'll bring back to their team and how they'll communicate them. Giving them tools and time to think this through and practice delivering key messages will ensure they've got the message right, as well as the confidence and skills to deliver it well.
You might even consider scaffolding your managers with additional tools and techniques to help accelerate their team's performance after your all-hands meeting or company offsite.
Your Turn
We would love to hear from you. What are some of your best practices for a better all-hands meeting or company offsite?