Speak Up to Get Better Feedback in Your Next Performance Review
A few years ago, I wrote "Avoid These Infuriating Phrases in End-of-Year Feedback" to encourage managers to stop making stupid comments when giving a performance review.
This heartfelt post came from years of listening to high-performing employees vent their frustrations about the things their managers said.
If you're a manager preparing to write a tricky performance review for an employee on your team, I highly encourage you to ensure you're not falling into one of these frustrating traps.
One of the easiest ways to tank employee engagement is to screw up an end-of-year review.
And, if you're preparing to RECEIVE your next performance appraisal, this article is for you.
If you're ready to accelerate team performance by increasing communication, connection and trust be sure to see our Team Accelerator Program page and sign up for the free demo.
How to Respond to the Most Infuriating Kind of Performance Review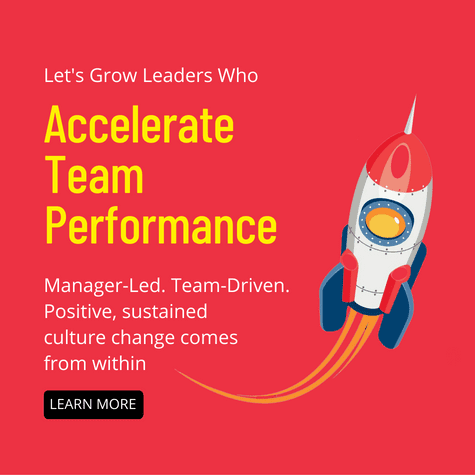 So as we head into performance management season, I'm sharing the companion piece to my popular "infuriating phrases" article, just in case your boss missed the memo or is struggling to navigate an old-school performance management system.
1. "I don't have much end-of-year feedback for you. You know you're doing great."
Ohhh, I hate this one as much as you do. Because if you're hearing this, yeah, you probably are doing great, but it doesn't give you much to build on or improve.
Some options to start your empowered response:
"Wow, thanks so much! I appreciate your support. This year, I feel particularly proud about __________ (insert that accomplishment you expected them to bring up). I'm curious about your perspective on that _______(project, strategy, accomplishment). Why did that work from your perspective? What made that work so well, and how might I bring more of that into my work?"
"Thank you! You know, one area I'm really working to improve on is _________. What is one suggestion you have for how I can be more effective in that arena?"
"Thank you! I'm curious about what specifically you appreciate about what I'm doing here. I'm very focused on ensuring next year is even better, and I'd love your help in knowing what I should continue doing and ideas to help me really differentiate my performance next year."
2. "I rated you as meets expectations for your end-of-year feedback. Your performance really was an "exceeds" but I had to make the math work out." Or, even worse, "I could only have one person in that category."
Okay, you have a serious right to be ticked off here. I've been there, on both sides of this awkward conversation.
And it's probably too late to change the math or the rating. I know this because as a Verizon executive I've fought this battle many times for the high-performers on my team, and the answer was "pick one."
Your manager may be as (or even more) frustrated than you.
In my article on infuriating phrases, my advice to your manager is to stay focused on results and behaviors, rather than the rating. And, to be clear about the criteria that they used to calibrate performance and where you met and exceeded those criteria and opportunities to improve in the future. To stay away from comparisons to other employees, or blaming other people for the rating they received.
And now, some options to start your empowered response: 
"Oh, wow. That must have put you in a difficult situation. And, I've got to tell you, that makes me feel really ___________(insert emotion here, but try not to scream or cry)."
"I've worked incredibly hard this year and I really don't want to be having a similar conversation this time next year. Can we outline what I need to do for next year to make 'exceeds' (or whatever your rating equivalent is) the obvious rating? I'd love to build a plan to ensure I have the success I'm looking for."
"I really appreciate your support. And I've got to tell you I'm pretty frustrated. This affects my compensation too (if that's true). I'd really like to talk to HR to express my concerns about this."
3. "I know we haven't talked about this before, but _____"
This one's tricky because your manager certainly shouldn't blindside you this way in your performance review. There are a few angles you might choose to take. If they've put something in writing that's coming out of the blue, you might request to have that removed, requesting a fair chance to address it before it turns up in the documentation.
And, here are some empowering phrases that might be useful.
"I appreciate your feedback and your desire to help me improve. I'm wondering what we could do to set up a more regular cadence of feedback throughout the year, so there are no surprises next time."
"I'm a bit surprised by this feedback and would like to take some time to digest it. Let's set up a follow-up in a week to talk a bit more."
"Since this is the first time I've heard this feedback, can you please give me some time to address this before you put it in the formal review? Here's my approach to improving in this area."
4."I don't really have any specific examples, but it's become a real issue."
If you hear this in your performance review, and you can't think of any examples either, I'd recommend you push for some examples.
"I'm deeply committed to improving my performance in this arena. And, it's really hard to understand what needs to change without some concrete examples."
"I really would like to understand this more. I'm struggling to come up with examples too."
"Can you please tell me more? I'd really like to get a better understanding of your concern here."
5. "I've gotten a lot of feedback from other people about your performance in this arena. Who? I'm not at liberty to say.
As with most of these awkward performance review phrases, I would start with a gut check. If your manager is raising an issue and it feels true to you, then your best bet is to own it and work on it.
However, if this third-party performance review feedback feels unfair, then I would press for more information.
"Hmmm. That's tricky. I don't see it that way. It would be really helpful for me to talk directly with those concerned. Can you please ask them to come to me with their concerns so I have a chance to talk with them directly about it?"
"Have you noticed this issue yourself? Does this seem like something that's consistent with what you've observed?"
"I'd like a chance to better understand this issue. Who do you suggest I talk with to learn more?"
6. "Just write up your accomplishments and I'll sign it."
It's a great idea to submit your accomplishments. After all, you're closer to the work you've done and the impact you've made.
Say yes, and then…
"I'd be delighted to write up my accomplishments (see How to help your boss give you a better performance review for tips on how to do that well)."
"I would also really appreciate your feedback and perspective on my performance this year. When would be a good time for us to talk through my performance review?"
"Here you go (hand them your accomplishments). I'm also really interested in your feedback on how I can make next year my best year ever. I got this great development discussion planner from Let's Grow Leaders. I'd love to schedule some time to go through that."
The best performance reviews are future-focused conversations. If your manager struggles to do this well, show up helpful, and do what you can to get the feedback and development you need.
Related Articles
12 Powerful Phrases For Navigating Challenging Workplace Conflict
How to Make No-good, Useless Performance Feedback Helpful
How to Help Your Team's Performance Stand Out for Better Recognition
Avoid These Infuriating Phrases in End-of-Year Feedback and Performance Appraisals