Prepare for More Influence, Deep Trust, and Better Collaboration
with a few "Go-To" Conversation Starters
Have you ever felt this way? You're in the middle of a challenging workplace conflict, and you're at a complete loss for words.
You're mad. They're mad. Maybe you even say something you can't take back. And then in the middle of the night, the perfect words come to you. The "wish I'd said" regrets can run deep.
It's impossible to prepare for every workplace conflict. And, you can't script influence. But it can be remarkably useful to prepare for inevitable workplace disagreements by considering what you might say before you need to say it.
But what if you had go-to Powerful Phrases that you can use in almost any situation? That would be helpful, right? We've chosen twelve go-to, all-purpose, Powerful Phrases that are the GOATs (Greatest of All Time) because you can use them in many different conflict conversations.
We mean these phrases to be thought-provoking prompts, not a script. Use them as a starting point to inspire the right words that feel natural and authentic to you.
Each of these GOAT powerful phrases aligns with our 4 Dimensions of Constructive Conflict that grounds our forthcoming book: Powerful Phrases for Dealing With Workplace  Conflict: What to Say Next to Destress the Workday, Build Collaboration and Calm Difficult Customers (Harper Collins, May 2024)
The Four Dimensions of Constructive Workplace Conflict
Connection – Do we know one another as human beings?
Clarity – Do we have a shared understanding of success?
Curiosity – Are we genuinely interested in other perspectives and what's possible?
Commitment – Do we have a clear agreement?
12 Powerful Phrases to Help You Deal With Workplace Conflict
Powerful phrases to foster connection
One of the best approaches to dealing with workplace conflict is to connect at a human level. Depersonalize the conflict by personalizing the conversation. Here are a few to get you started.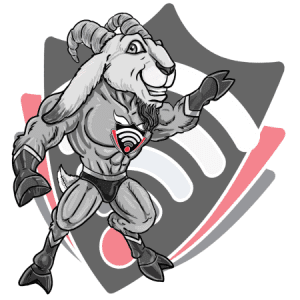 1. I care about _____ (you, this team, this project) and I'm confident we can find a solution that we can all work with.
Of course, this one requires sincerity. If your past behavior makes this statement questionable, you'll want to supplement this one with a sincere apology as you state your intent for your future relationship.
2. Tell me more.
Nothing builds connection like being seen, and this Powerful Phrase gets there in just three words. This prompt helps move through surface conversation and symptoms to deeper meaning. When you invite the other person to continue, they'll often help you understand what they really want to say, what matters most to them, and you'll avoid misunderstandings.
3. It sounds like you're feeling _____ is that right? [pause for affirmation]. Thank you for letting me know how you feel.
Checking in with the other person to validate their feelings can help deescalate a conflict at any point in the conversation.
When you "reflect to connect" you're not agreeing with what they've said or that you agree with their emotion. Rather, you acknowledge how they feel. You see them. When you reflect, you are checking for understanding and creating a common starting place for the conversation.
When they know you've seen and heard them, it diffuses some of the emotional intensity and builds a connection that allows you to move to constructive next steps.
For example: "It sounds like you're really frustrated with the lack of response from marketing and that's sapping your motivation. Do I have that right?"
Powerful phrases to create clarity
Most conflict at work (or anywhere else) comes from an expectation violation. Some of the most powerful phrases you can use in any conflict are those that lead to greater clarity.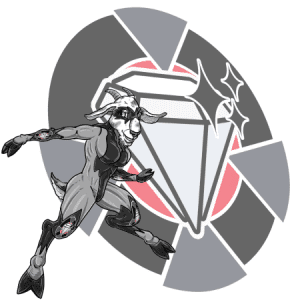 4. What would a successful outcome do for you?
You may or may not agree on what success looks like, but gaining clarity around expectations can save a lot of time and wasted energy. If it turns out you both want the same thing, you can shift to a "how can we" conversation. "Great, it sounds like we both want something similar. So how can we make that happen?"
At the very least, this powerful question gives you insights into what the other person needs, and then of course opens the door for you to share your definition of success as well.
5. Let's start with what we agree on.
When you're in the middle of a workplace conflict, it's easy to overlook the common ground. It's likely you share some common perspective to build on. Taking a few minutes to know what you agree on can help reduce stress and create a more collaborative tone for the work ahead.
6. What I'm hearing you say is __________. Am I interpreting that correctly?
Similar to number three where you reflect their emotion, this is a check for understanding to show that you're actively listening, interested in, and truly understand the other person's point of view. This powerful phrase is gold when working through workplace conflict because it also helps clear up misinterpretations and misunderstandings.
Powerful phrases to show up curious
One of the fastest ways to get to the root cause of a workplace conflict is to show up genuinely curious about what the situation looks like from the other person's point of view. As with all of these power phrases your positive intent matters, as does your tone and facial expression.  
Your genuine curiosity will help people feel seen, and similar to the clarity power phrases, can give you a deeper sense of expectations and desired outcomes.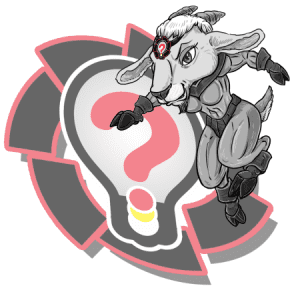 7. I'm curious how this looks from your perspective.
The beauty of this workplace conflict power phrase is that it can be useful at almost any point in the conversation.  Variations include, "What's your take on this situation?" "I'd love to hear your point of view on this."
Of course, once you listen to their perspective, you set the stage to share yours.
8. What do you suggest we do next?
This power phrase can be so useful to move the conversation from complaining or handwringing to tangible next steps, and it sets you up to share your ideas as well.
9. What can I do to support you right now?
One of the fastest ways to de-escalate an emotional conversation is to show up with genuine curiosity about how you might help. This question pairs with the connection questions listed above.
Powerful phrases to foster commitment
One of the most frustrating aspects of workplace conflict conversations is that it seems like they'll never end. One of the best ways to have more influence and impact is with words that move you from discussion to action.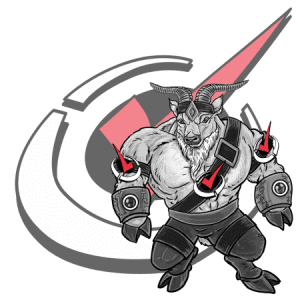 10. What's one action we can both agree to as a next step here?
You might not have resolved all the issues, but steering the conversation to one specific next step helps create forward momentum. Asking for just one action will usually feel doable. And if one  step feels easy, you can always say "Great, what else do you think we could do?"
11. So, to recap our conversation, we've agreed to _________. Is that your understanding?
As you can see, we're big believers in the "check for understanding" throughout the conversation. It's particularly important when recapping a workplace conflict conversation. The more emotionally intense the conversation, the more critical this final step is. If you leave the discussion with different expectations, you'll have continued conflict and hurt feelings.
12. Let's schedule some time to talk about this again, and see how our solution is working.
If you've ever been in one of our leadership training programs, you'll recognize this as "scheduling the finish,"
One of the big sources of workplace conflict is when you think you've resolved it, and everything doesn't go the way you planned. Scheduling time to talk about the situation again makes the follow-up conversation more natural because you've already agreed to it. A scheduled follow-up increases the odds that you'll both keep your commitments to one another. And, it gives you a built-in opportunity to discuss the inevitable disruptions to your plan.
Your Turn
Workplace conflict is never easy, but often quite necessary and valuable in high-performing teams. Being able to surface and navigate workplace conflict is one of the most important skill sets for every team member to master. These powerful phrases can serve as a useful starting point. We encourage you to refine them and make them your own.
We'd love to hear from you: What would you add? What are your favorite go-to phrases for navigating workplace conflict?
Coming This Spring (Available for Pre-Order Now)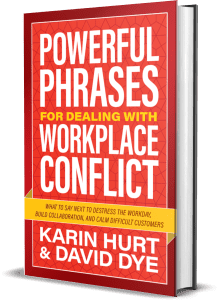 If you've noticed we've been talking about workplace conflict and collaboration a lot recently, it's because we've been doing a lot of research, learning from people all over the world about their biggest workplace conflicts and what they would do differently next time. We'll release that research in the next few months. Stay tuned.
In the meantime, our new book, Powerful Phrases for Dealing with Workplace Conflict: What to Say Next to Destress the Workday, Build Collaboration, and Calm Difficult Customers is available for pre-order now, and we're working on building our speaking tour for Spring 2024 (you can take a quick peek at some of our new conflict and collaboration programs here).
Oh, and stay tuned for more exciting announcements coming soon.
Your Turn
We would love to hear from you. What's your best approach to ensure clear communication and align expectations for more productive conflict conversations?
How to Talk With a Passive-Aggressive Coworker (And Not Play Their Game)
Team Conflict: How to Surface and Discuss Simmering Issues (Video)
How to Say No at Work: Powerful Phrases to Stand Your Ground 
Ghosting at Work: Why It's Terribly Destructive and What to Do Instead