Free Career Development Discussion Template
Holding great career development discussions is one of the great joys of being a human-centered leader. And, many managers we work with will avoid them because they just don't know where to start. Like a great one-on-one, these conversations go a long way in building trust and employee engagement. It's a great way to actively demonstrate that you truly care about your team member, beyond their immediate contribution to your team.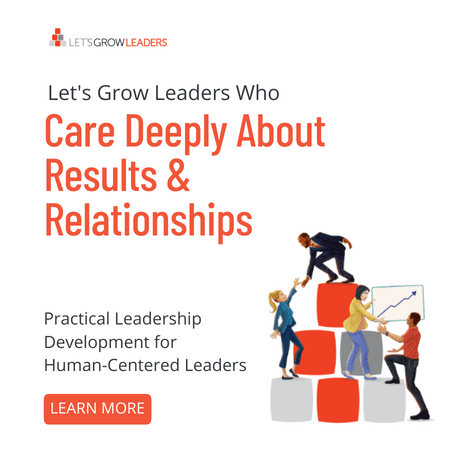 We've been using this career development discussion template with managers around the world in our leadership development programs. These managers tell us it leads to deeper, more meaningful conversations. And serves as an important guide in building career development plans.
Use this career development template to help your team members think more deeply about their career development goals and key actions. It works best if you give it to them in advance and ask them to bring it with them to ground your development discussion.
You can download the PDF here.
Tips for Making This Conversation Easier
Invite your employee to come truly prepared (that's why this career development template works so well).
Ask them how they felt about completing the template. What thoughts and emotions came up for them?
Start with their current role. How can they take their performance to the next level?
Then, ask them to consider future roles. This is a great time to help them expand their thinking and consider how their skills might translate into other roles in your organization.
Use this Career Development Discussion Template to help your employees prepare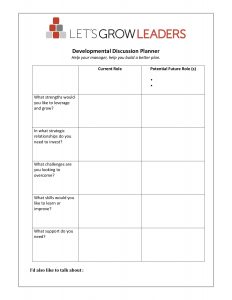 Ask your employee to reflect on both their current and desired future roles and answer the following questions outlined in the career development template.
What strengths would you like to leverage and grow?
Leveraging strengths is a great way to start the discussion. How can you test and build upon these strengths across a variety of contexts? Once the discussion moves to action planning, think about ways you can pair up your team members to help one another.
In what strategic relationships would you like to invest?
Often the most important work to get ready for the next level or a strategic lateral move involves building more influential relationships. Encourage your employees to think about where they need to invest in relationships for their current role, as well as future roles. Who can help champion, sponsor, prepare for, and give them a taste of their desired future?
What challenges are you looking to overcome?
This is an important calibration point. You want to know if they know what's holding them back. Much better to start with their perspective before adding yours.
What skills would you like to learn or improve?
Our training clients often tell us that they are often surprised by the answer to this question. Giving your employee some time to think about this in advance will lead to a meatier list.
What support do you need?
Ask your employee to come with a specific "ask." This helps overcome the two most frequent answers to this question, "I don't know" and "I haven't thought about it."
Wait, What if They Don't Want a Promotion?
One of the biggest questions managers ask when completing this tool with their teams, is "what if someone is content in their current role?" What if there is no "future role."
Future roles don't necessarily mean promotions. There are many dimensions of career growth. If this is a big concern for you, you won't want to miss this very special episode of Asking for a Friend, where I talk with Julie Winkle Giulioni.
Her book, Promotions are So Yesterday, pairs remarkably well with this career development tool.
Your turn. What questions would you add?
And if work without human-centered practical leadership training is getting a bit too edgy for your liking – or your strategies just aren't working like you need them to – visit our Live (online or hybrid) Leadership Training page to learn how to build and sustain company-wide change.
Our clients tell us it's exactly these types of super practical leadership tools that bring the LASTING VALUE to their trainings. At Let's Grow Leaders we are all about easy-to-implement, 100% relevant leadership tools.
See Also:
How to Get Employees Jazzed About Their Professional Development (Fast Company)