Want better teamwork? Start with these practical habits to build a deeper connection.

Just like any other outcome in life, if you want better teamwork, you need better habits. And yet, most teams don't take the time to identify and commit to the habits that will make them truly successful.
You can't become an ultramarathoner without the habit of running. You can't publish a book without writing regularly. Any customer service expert will tell you that you can't create a great customer experience without a habit of doing what matters to your customers.
It's the same when you want better teamwork. You can't build a connected team without consistent, meaningful habits. Team connection doesn't come from a few pizza lunches or virtual icebreakers. It's about how you're showing up every single day for your team, particularly during times of stress and change.
We find that teams frequently overlook these connection habits. In our experience, teams that know each other well often don't work on good connection habits because they don't think they need to invest in one another. And they allow some of the most destructive habits to creep in.
"Oh, we don't need to connect with empathy. We're past all that. We're such good friends. I can just tell him he's a jerk and his idea is stupid. He knows I don't mean it…"
Or, "fun" (sometimes mandated) is for after hours, and the rest of the day is an intense slog. Or team members can't tell each other the truth, for fear of losing connection — which, of course, destroys genuine connection, while creating a surface illusion of teamwork.
12 Habits That Build Better Team Connection
In this "Better Teamwork" series, we'll be talking about habits that foster collaboration and make teams stronger. Starting with 12 habits that lead to a better connection. Here are a dozen to get you started. What would you add as #13?
1. Connect With Empathy: Understand and be in tune with your colleagues' emotions.
Habit: I care about you and show you in my words and actions.
Empathy is a bridge to deeper understanding and trust. When you genuinely recognize and respond to the emotions of team members, it creates a safe space for open dialogue and vulnerability. You can kick-start a supportive conversation with: "It sounds like you're really frustrated…"
2. Know You Beyond Work: Forge deeper connections by knowing more about your teammates.
Habit: I take time to learn about your people, pets, and projects.
For better teamwork, dive deeper than just professional interactions. When you understand someone's life, it's easier to understand their perspectives and motivations at work. Ask about hobbies, families, and dreams. Kick off a chat with questions like: "How's your new puppy? Is she eating your dirty socks?"
3. Find the Fun: Ensure that amid all the work, there's room for fun and light-heartedness.
Habit: I find a way to play—to energize our teamwork and lighten the load.
During tight deadlines and serious discussions, a little levity can go a long way in building better teamwork and fostering connection. Laughter can reduce stress and increase creativity. Break the monotony and propose a lighter approach: "What if we gamified this?"
4. Prioritize Peers: Support and celebrate your colleague's successes.
Habit: I work to help you succeed. Your win is my win.
When team members support one another, they amplify their collective potential. Show your commitment to their success with: "How can I be most helpful?"
5. Ask for Feedback: Consistently get your team's and colleagues' insights to help you be your best.
Habit: I invite your perspective and consider what you say.
Receiving feedback helps in self-awareness and continuous improvement. Request input by asking: "What's working and what can I do better?"
6. Listen Actively: Prove you're really listening by not just hearing, but showing that you understand.
Habit: I give my full attention in our conversations, paying close attention to what you say and how you say it.
Listening is more than just processing words; it's about understanding and validating emotions and intent. Active listening fosters respect,  understanding, and better teamwork. Urge colleagues to open up more with: "And what else?"
7. Show Up Real: Authenticity creates trust. Share more about your genuine self.
Habit: I let you know who I am and the gifts I bring to the team.
In an era of polished personas, authenticity is refreshing and reassuring. Being genuine can pave the way for deeper, more meaningful connections. Make yourself more relatable by sharing: "Something you should know about me is…"
8. Clarify My Values and Goals: Make sure your team knows what drives and motivates you.
Habit: I know what matters most to me.
Knowing where you stand provides a foundation on which others can build. Clear values and goals foster alignment and ensure everyone heads in the same direction. Open up a dialogue with: "Here's what's most important to me…"
9. Apologize Readily: Own up to your mistakes and take steps to rectify them.
Habit: I take responsibility for my mistakes and own the impact.
Everyone makes mistakes. The difference lies in recognizing them and making amends. Strengthen trust and rebuild connections by saying a genuine: "I'm sorry."
10. Celebrate Diversity: Embrace and highlight the unique qualities and perspectives of every team member.
Habit: I do my best to create an atmosphere of inclusion and belonging.
Varied backgrounds and perspectives are an awesome foundation for better teamwork. Diverse teams are more innovative and adaptive. Nurture an environment where everyone feels seen and valued by asking: "What's important for me to know and understand right now?"
11. Be Present: Give your undivided attention to the task and team at hand.
Habit: I show up strong, focused on our team and the work we are doing.
In our always-on, multi-tasking world, giving undivided attention is a gift. Being fully present signals respect and importance. Show your commitment to the moment and the team:  "I've turned off my phone; let's do this!"
12. Give Credit: Highlight the strengths and contributions of your team members.
Habit: I generously acknowledge others' contributions, ideas, and successes.
Recognizing and crediting the efforts of others fosters goodwill and encouragement. Appreciation can boost morale and drive further excellence. Lift up your teammates with genuine praise: "The real genius behind this project was ____. I couldn't have done it without them!"
13. Your Turn: What habit would you add to foster connection for better teamwork?
Note: This article is part one of our 4-part Better Teamwork series. Next up: Clarity, publishing next month.
Coming This Spring (Available for Pre-Order Now)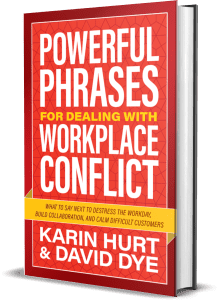 If you've noticed we've been talking about workplace conflict and collaboration a lot recently, it's because we've been doing a lot of research, learning from people all over the world about their biggest workplace conflicts and what they would do differently next time. We'll release that research in the next few months. Stay tuned.
In the meantime, our new book, Powerful Phrases for Dealing with Workplace Conflict: What to Say Next to Destress the Workday, Build Collaboration, and Calm Difficult Customers is available for pre-order now, and we're working on building our speaking tour for Spring 2024 (you can take a quick peek at some of our new conflict and collaboration programs here).