There's Nothing Normal About Where We're Headed Next- Time to Embrace the New Abnormal
Your team is looking to you for guidance on what happens next. As you're making plans think beyond the new normal, and focus on helping your team thrive in the new abnormal.
Last week I attended the Association of Training Providers conference, where people like us who run training companies like ours gather to talk about industry trends, share ideas, and help one another better serve our clients. Wow, it felt great to be on the other side of a keynote speech for a change 😉
One of my favorite sessions was on resiliency, led by Leo Flanagan, Ph.D. who runs The Center For Resilience.
Three points really resonated with me and the work we've been doing to support our clients in this transition.
CDC statistics show increasing trends of anxiety and depression–an increase of 514% in the last 14 months.
To quote, Dr. Flanagan, "there is no returning – there is only going forward into an unprecedented era of innovation"
"Physical safety does not equal emotional safety."
I've thought about all this before but, somehow this really hit me right between the eyes.
There is nothing normal about making sure you have your mask and hand sanitizer with you as you leave for work.
Or socially distancing from your colleagues in a meeting. That's not the new normal. That's the next phase of the new abnormal. We need to prepare our teams for that.
Amen.
4 Important Considerations to Help Your Team Thrive Into the New Abnormal
So as you consider the next phase of your new abnormal, here are a few key considerations to keep in mind as you build your strategy and approach.  What would you add?
1. Make Mental Health a Top Priority
If your team is even remotely like the rest of the population, you have many people dealing with significant mental health challenges that aren't going to magically disappear with their second dose of the vaccine.
In addition to important work like safety protocols, vaccination policies, and training your managers on leading hybrid teams, it's important to continue the conversations of supporting the mental health and well-being of your people.
Demonstrating a bit of vulnerability can go a long way. "This is hard for me too, and this is why."
During times of uncertainty and change, it's easy to focus on what we don't know. Be sure your team has a clear understanding of their strategic, short-term, and daily priorities.
And when things change, be sure they know not just what is changing but also why as you work to navigate the new abnormal.
This article on productivity and setting MIT priorities can help.
3. Conduct frequent assessments to know how people are truly feeling
It's easy (and sometimes tempting) to listen to a few outspoken voices and think that's how everyone is feeling. "Everyone wants to come back to work in the office." "Everyone wants to stay working from home." These are both sentences we've heard recently from leaders in the same organization.
Employees may feel pressure to say what they think you want to hear. Frequent, short pulse surveys can be invaluable to know what's really on people's hearts and minds and to know how their thinking is evolving in this rapidly changing new abnormal.
4. Involve your team in building a better future
An important part of Dr. Flangan's resiliency model is what he calls "Pragmatic Optimism."
He defines a person with "pragmatic optimism" as someone who: "Believes the future will be better and they have a role in making it so." (p.s. if you've missed our BEDTalk from the very early days of the pandemic, we talk about this too.
it's not too late to gather your team and capture what you've learned and are still learning, as you involve your team in preparing for the new abnormal. Our FREE I.D.E.A. Incubator Guide can help.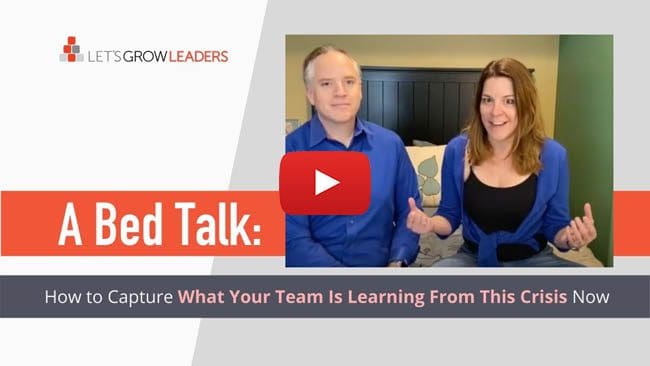 Your turn.
What would you add? How are you helping your team prepare for the new abnormal?