Practical Ways to Support Your Team in the New Abnormal
Today on Asking For a Friend, we continue the conversation we started in Thriving in the New Abnormal, How to Support Your Team about how to support your team as we transition to the new abnormal.
3:35 We're so close …  and yet as we look at the next 6 months it's not looking particularly normal
:50 Dr. Leo Flanagan on Resiliency. We need to prepare for the new abnormal. Just because people are physically safe does not mean they're feeling psychologically safe. And we need to recognize that people are coming off a period of intense stress and change.
1:17 According to the CDC 41% of us are dealing with signs of anxiety and depression. It's not going to go away in an instant with a second vaccine.
2:10 How are you helping your team move into this next phase?
Make it safe for people to talk about their feelings (including anonymously).
Include people in the planning.
Give people agency in the future they are creating.
Ask them for their ideas.
How Do I Support My Team in This New Normal That Isn't Normal?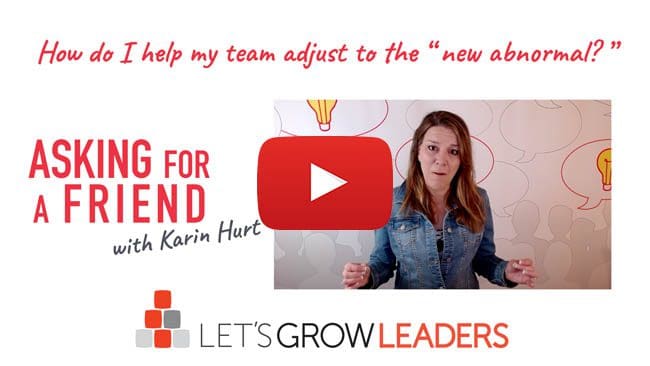 Related Articles on How to Support Your Team
Psychological Safety: Why People Don't Speak Up at Work
Psychological Safety or More Courage: What Your Team Needs Now
Thriving Through the Ongoing Pandemic