Want Better Ideas?
How to Help Your Team Vet Their Ideas and Bring You Solutions
You don't just want ideas—you want GOOD ideas. There's no time for half-baked solutions to trivial problems. But if you stop listening, they'll stop sharing, and you'll miss the good ones.
How you respond to incomplete, off-base, or inelegant ideas makes all the difference in whether or not you'll get the contributions you do need the next time. Several executives, when they heard about our research on Courageous Cultures and FOSU (fear of speaking up), told us "Oh, that's not our issue. Our problem is these damn millennials can't stop speaking up. They complain about everything."
"And do you listen?" we ask.
"Some of the time, but after a while, you can only take so much."
Which begs the question: What happens next after you're tired and they're ignored? It's only a matter of time before they stop trying or find someplace else to work that will listen.
It's worth the time investment to help your team know a good idea when they see one and to learn how to vet it for viability.
This simple tool works wonders.
4 Questions to Help Your Team Vet Their Ideas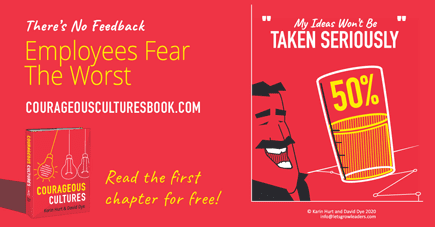 In our research, 40% of the participants said they don't feel confident to share their ideas and 45% say they haven't been trained to think critically or solve problems.
If you want better ideas, help your employees know what differentiates a good idea by giving them a few criteria. Tell your team you're looking for interesting, doable, engaging actions.
I-Interesting
Why is this idea interesting? What strategic problem does it solve? How will results improve from this idea (e.g. customer experience, employee retention, efficiency)?
D- Doable
Is this idea something we could actually do? How would we make it happen? What would make it easier or more difficult?
E- Engaging
Who would we need to engage to make this happen? Why should they support it? Where are we most likely to meet resistance?
A-Actions
What are the most important actions needed to try this? How would we start?
See Also: Entrepreneur: Have a Killer Business Idea? Here's How to Vet It
Of course, after you ask, how you respond to ideas, even if they are wacky really matters too.
Be sure you respond with gratitude for thinking about how to make things better. Information that will help them understand what's going to happen next (and why). And, an invitation to contribute more.
Your turn.
What are your best practices to help your team bring you better ideas?