Each year, it's fun to review the stats and determine what our readers found to be the best leadership articles of the year.  The best leadership articles of 2019 covered a range of topics including culture, meetings, performance appraisals, leading courageously, and communication. Thank you for all you do to help us spread the message that you can get great results without losing your soul and for sharing our very practical tools.
So here you go (click on the header link to access the article). These are best leadership articles of 2019 based on page views. We'd love to know your personal favorite. Please let us know which Let's Grow Leaders articles you've enjoyed the most this year, by leaving the link in the comments.
The Best Leadership Articles of 2019
This one clearly struck a nerve. It seems like most of us have been on the receiving end of such stupidity.
Read this article to learn the most infuriating phrases to avoid, why they're infuriating, and what to say instead. And in case you missed Karin's Asking For a Friend Vlog on the subject, you can find that here.
We were not surprised that you picked this article (with your views and shares) as one of the best leadership articles of 2019. It's a question we hear after every keynote we deliver: "I want to build a Courageous Culture, but I don't know if it will work at my company. It's not a healthy place and the people I report to aren't interested in doing things well or better. How do I lead in such a caustic culture?"
This article gives you practical tips for leading with influence and building a healthy cultural oasis.  We long for the day that no one needs to write articles like this, but until then, we're on a mission to help.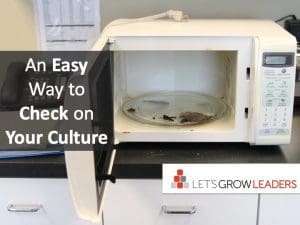 What does your office microwave have to do with your culture? Check out David's popular article on shared accountability.
One thing we've noticed about many of our popular articles (including this one), is that they've been picked up and shared by Smartbrief on Leadership (a remarkable aggregator of relevant leadership thinking and tools). If you're not familiar with their Smartbrief on Leadership newsletter which we highly recommend (it's free), check it out! They do amazing curation and have their finger on the pulse of what's on the minds of CEOs and other leaders.
If you ever feel like your team is sheltering you from bad news, or not giving you all the detail you need? If you're faced with that common frustration, this top leadership article offers some very practical advice.
We developed this approach based on a request for a client looking to maximize the effectiveness of quick daily huddles. It starts with setting a clear intention, structuring your topics, asking provocative questions and closing with a quick check for understanding.
If you're new to management or work in a fast-paced environment, you might find this a vital part of your communication strategy.
We were delighted to see this article resonating because this topic is foundational to the work we do with leaders. Yes, you can get breakthrough results and remain a decent human being (includes a video). If this is a new concept for you, please do check out our book, Winning Well: A Manager's Guide to Getting Results—Without Losing Your Soul.
And if you want to read it as a team, you can download our FREE book group facilitator's guide and toolkit here.
This article continues to be amongst the most searched terms on our blog. This delights us because we are big believers in managers giving more consistent and meaningful feedback throughout the year.
We offer questions for a more meaningful conversation.
Also not surprised that this topic ranked as one of the best leadership articles.
You know we are big fans of ditching the diaper drama and speaking the truth (if you've missed this, the most fun rendition is from our son at age 11).
It can be tricky when it comes to your boss. And sometimes that's exactly what you need to do. Here's some perspective on how to do this with grace.
One of our early posts on Courageous Cultures we talk about the vital importance of eliminating soul-sucking, courage-busting behaviors that stifle innovation, creativity, and hope.
Another Courageous Cultures articles as an early preview into our book coming out next year: Courageous Cultures: How to Build Teams of Micro-Innovators, Problem Solvers and Customer Advocates (available for pre-order)
Perennial Favorites: The Best Leadership Articles of 2019 (that were written in previous years)
#1 Seven Ways to Help Your Team Deal with Ambiguity
#2 Five Secrets to Great Skip Level Meetings
#3 How to Manage Your Emotions When You Make Leadership Decisions
And last year's line-up of best leadership articles continues to serve a large audience.
Best Leadership Messaging in Other Media
Most Popular Leadership Without Losing Your Soul Podcast
This year, David started his popular Leadership Without Losing Your Soul podcast. Leaders tell him they like to listen on the way into work for some quick tips and practical inspiration.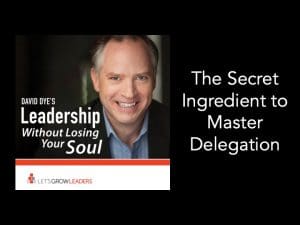 The Secret Ingredient to Mastering Delegation
Your Executive Presence: Interview With Hilary Blair
Find the Others: Leadership Excellence Profile with Jamie Marsden
Popular Asking For A Friend Vlogs
And Karin started her Asking For a Friend video series on LinkedIn. What's really fun is all the interaction and comments. If you want to connect with us on LinkedIn, just send an invite (or drop us a note and we can connect with you [email protected].

Is it okay to treat employees differently? (Interview with Kevin Kruse)
I'm afraid to act too impressed with my team … they might stop trying to get better.
How do you hold people accountable if you never have before?
And some of our best leadership articles of 2019 and features in the news
Breaking the Safe Silence (Recruiter.com)
How to Take Your Retention Strategy to the Next Level (Training Industry)
How to Be the Leader Employees Want to See When you Walk Through the Door (Entrepreneur)
3 Self Sabotaging Ways of Speaking Up (Inc)
How to Find More Courage and Innovation on Your Team
Developing Leaders of Tomorrow (CIO Views)
Thank you!
Thank you for all you do to inspire our writing and spread the word … that you can get great results without losing your soul.
May the new year bring you much peace, health, inspiration, and joy.
Karin and David