We'd both been looking forward to it–our first Thanksgiving together. We'd each been the primary holiday cooks in our previous marriage, which can feel lonely and overwhelming at times. But not this year. Now we had each other. We'd planned the perfect menu the week before while eating sushi over candlelight. We'd had fun shopping. We were all set.
I was full of anticipation of a snuggly time of gravy tasting, stolen kisses, the warm glow of the fireplace in the next room, and the happy ruckus of the parade marching in the background.
Apparently David had a vision for the morning too, which included precise execution, a clutter-free work space– and not so much noise.
So when I started peeling potatoes while still neck deep in the residue of pumpkin pancakes and bacon grease from breakfast, and he pulled out his spreadsheet to do some "backward mapping…"
We decided to take a time out and go for a walk in the woods.
"I just want this to be a romantic time of cooking together. I'm so glad to be with you and want share the experience." I shared, a bit choked up.
"You've told your Dad I'm a great cook, and your Dad IS a great cook. I've got to live up to expectations.  It's important for me to make a good impression on your family." David explained.
And there we were neck deep in the frustration of miscommunication and unmet expectations.
Ever happen to you?
5 Questions to Ask When Trying to Resolve a Conflict
1. What am I trying to achieve?
What do I really want the outcome of this situation to be? Have I shared that? What does the other person want? And how do I know?  Have we shared our objectives with one another?
2. What is this conflict really about?
Conflicts are almost never about what you're talking about. At least at first. Despite the obvious dialogue, we were not really talking about whether the apple pie needs an egg white wash before the apples. We were defining how we were going to roll as a couple, in real life. It's amazing how we can write a book, share many stages, negotiate the financial aspects of the business, and then get worked up about how to mash a potato.
3. What am I expecting?
What are my expectations? Have I said them out loud? Not once did I say, "Hey what I really want here is for you to pay more attention to me than the Brussels sprouts." Nor did he say, "It makes me feel better to start with a tidy work space." As it turns out, all that was a nontroversy. I'm always happy for him to clean the kitchen 😉
4. What's the best way to communicate about this?
Clearly, we needed a time out. A walk in the woods reconnected us to what mattered most– we were together at Thanksgiving and delighted to be a team. We then laughed and pulled out our Winning Well techniques of clarifying expectations and talking about our MIT (most important things).
Another great tool is to consider the range of style-options you have for resolving the conflict and picking one that may come less naturally for you. The TKI indicator is the best tool I've found for working with teams on this.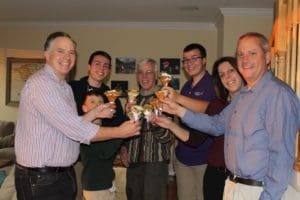 5. How can we achieve the results we want AND enhance the relationship?
Winning Well teams have conflict. Conflict is valuable and often inevitable whenever two or more people are passionate about creating something remarkable. It's important to keep both the results and the relationships in mind as you're working through the conversation.
In our case, relationships won on this one. The walk was productive, but the potatoes cooked too long. My nephew ran out to get a box of instant spuds to save the day. I'll take it.