You Appreciate Your Team, But Do They Know Why?
What do you appreciate most about each member of your team? Have you told them? Try this simple, free and powerful best practice to encourage and recognize your team.
You get more of what you encourage and celebrate and less of what you ignore.
A Quick "I Appreciate You" Best Practice
The other night I was talking to Joe, a leader who shared this fantastic best practice.
Every time Joe has someone new join his team, he takes the time to write down "why I hired you," frames it and gives it to the new team member.
Every new employee comes to work knowing what Joe appreciates most.
Wow! a powerful way to show appreciation and boost confidence. Who wouldn't want that sitting on their desk on a bad day? Heck, it can't hurt on a good day either.
I was sharing this idea with a leader on my team and lamented, "I sure wish I had done that for you guys."
She looked right at me and said. "It's not too late."
Her thirsty look made me realize I had work to do.
So this Sunday morning, I worked to identify the 3 areas I most appreciate about each member of my direct report team. I didn't overthink it. The whole exercise took less than an hour. No fancy frames, just a weekend email to start their week.
Why It Was Hard
Just as I started to write, my internal struggle began as I thought about all the "What ifs?"
What if they were disappointed about the characteristics I most appreciated? I would have to be clear; this was merely my view on how their leadership was showing up– a subjective, single perspective.
What if the leader who was also struggling in some areas took this as a sign that he was off the hook for the behaviors we had been working to improve? I decided it was okay. I was working on those consistently and would do that again another day. This focus on appreciation only might be exactly what he needed.
What if they compared notes? I realized that would be FANTASTIC.
It would be great to have them talking about what they appreciated most in one another.
I also made a deliberate decision to focus on leadership behaviors without the context of accomplishments or results. For this exercise, I did not want to appreciate them for the amazing year-over-year growth. This time, it was all about how– not what.
What I Appreciate Most
The exercise became a meditation.
I felt deep appreciation and connection bubbling up. I became overwhelmed by how much I appreciated them as a collective team. It was not lost on me that what I chose to appreciate said as much about me as it did them.
I found that I appreciated the characteristics that were hardest for me and also those I value most deeply. A few excerpts from these notes…
I appreciate your:
high-energy, always-fascinated approach to everything you do. You love life, and it shows.
relentless efforts to build genuine teams (down, up, and sideways). You live your motto, "no one wins unless we're all winning."
strategic approach to what's most important. You're not easily distracted by "noise."
deep desire to grow, eagerness to learn, and willingness to try
highly developed ability to listen, listen some more, and then speak with wisdom
strategic, scenario-based thinking. I love that before I can finish a sentence, you have a calculator doing the math
deep spirituality, and commitment to your family. It shows in your day job.
Ready to accelerate team performance?
Increase connection, communication and trust while driving results. Visit our Team Accelerator Program page to view your free program demo.
Your turn.
What are your best practices for letting each team member know how you appreciate them?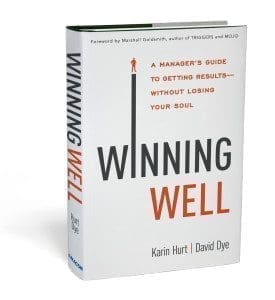 Other Resources
For more Winning Well tools and techniques, check out our book. Winning Well: A Manager's Guide to Getting Results–Without Losing Your Soul.
Check out some of our other Most Read and Shared Posts
How to Give Better, Consistent Appreciation (Another appreciation best practice from my time as a Verizon executive)
Psychological Safety: Whey Employees Don't Speak Up at Work
Leadership Skills: 6 Leadership Competencies You Can't Lead Without
7 Ways to Help Your Team Deal with Ambiguity