Help Your Team See the Bigger Picture to Contribute Better Ideas and Feel More Connected
Most of the time when executives tell me their team is "not strategic," the real challenge is they just don't have enough information to see the bigger picture. The occasional all-hands meetings help, but without interim reinforcement, those motivational meetings can feel like a fire hose of plans and numbers. If you want your team to truly "get it," sprinkle little bits of big picture reinforcement into their week.
6 Ways to Get Your Employees to See the Big Picture
"The big picture doesn't just come from distance; it also comes from time."  -Simon Sinek
1. "Postcards"
It's easy to forget that the main reason many employees don't think more strategically is a lack of information. And, it's hard to connect the dots when a third of them are invisible.  It's also tough to translate all you heard three days later. What I've found works quite well is just to send soundbites out via text message or slack throughout some of the more strategic meetings I attend to connect what I'm hearing to the big picture.
I make them fun and relevant to their roles. It creates interest and sets the table for the more robust conversations that follow.  These have worked for years, long before 140 characters was the way of the world.
"Oh boy, Competitor X just launched new plans that will change the way customers think about our pricing. Let's talk more on Monday!"
2. Gamification
It's easier than ever to turn learning into a game. Make learning the big picture fun.
In our long-term leadership development programs, we use our Let's Grow Leaders learning lab to create lasting behavior change. Participants learn to apply what they're learning to their daily leadership and also gain a better understanding of their most important work fa into the bigger picture.
3. Bring-a-Friend Staff Meetings
Sometimes the best way to understand how the sausage is made is to help make it.
Giving people exposure to the conversation and thought process, not just the outcomes of strategic decisions, goes a long way in helping people connect the dots to the bigger picture. Every time I've held a "bring-a-friend staff meeting" where my direct reports each bring one of their direct reports, you can almost see the light bulbs going on.
4. Field Trips
There's a reason every elementary school takes a trip to the zoo. You can read about giraffes all you want, but until you have one bend down and lick your face, it's hard to really understand what they're all about.
If you want your employees to take a big picture view, take a field trip to another department and seeing how they really think and operate.
5. Mentoring Circles
One of my favorite techniques in my executive roles at Verizon was to create skip-level mentoring circles of high-potential managers.
We would meet monthly to discuss strategic big picture challenges, work on real projects together, and have candid conversations about what was getting in the way of their strategic success.
6. Teaching Operations Reviews
Another one of my key go-to's. For step-by-step instructions click here.
And of course, before you got there, be sure they can answer these 7 strategic questions:
2021 Update…2 More Ways to Help Your Employees Think Strategically
This article has proven to be so popular, I thought it might be useful to provide an update on communicating the bigger picture.
7. Be a Translator
Since the original writing of this article, we've been doing a lot of work with middle management teams to become better translators
In our popular article, One Crucial Skill The Best Middle Managers Master, we shared 5 ways managers can help translate the big picture to their teams. They translate:
Industry dynamics into pragmatic straight talk.
EBITDA to "What I need from ya."
Executive urgency to tangible actions.
Employee angst into reasonable requests.
Deep questions into dialogue.
Help your team see the bigger picture. Before you motivate, translate.
8. Provide Clarity Around Where You Need Great Ideas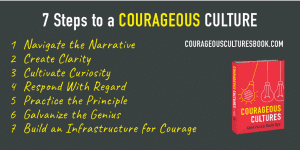 In our research for our latest book, Courageous Cultures: How to Build Teams of Micro-Innovators, Problem Solvers, and Customer Advocates, we found the most innovative companies who tapped into the best thinking of their employees were clear about two things.
They provided clarity that they really wanted their employees' ideas, and
They were clear about what a great idea would accomplish (e.g. they explained the big picture).
This clarity goes way beyond having an open door policy.
You can learn more about our Courageous Cultures research and download the first few chapters for free here.
Your turn:
What are your favorite techniques for helping your team see the big picture?
Are you ready to establish a Courageous Culture of critical thinkers, problem solvers and customer advocates within your company? Visit our Strategic Leadership page to learn how Let's Grow Leaders can help you build a Courageous Culture – with higher engagement and a results-oriented approach to innovation.