Karin, I know I get that leadership vulnerability and transparency really make a difference in building trust. And, you know what? IT'S HARD! How do I get okay with it? Where do I start? Does it really matter? What if it backfires?" #AskingforaFriend
These are "Asking for a Friend" questions I receive after almost every keynote.
Today's guest is my husband and business partner David Dye.
He recently published a book of essays called, Tomorrow Together: Essays of Hope, Healing, and Humanity.
His book is filled with meaningful, personal stories that will make you think, laugh, and possibly cry. His stories are meant to inspire hope. And, encourage your courage.
David Dye on Leadership Vulnerability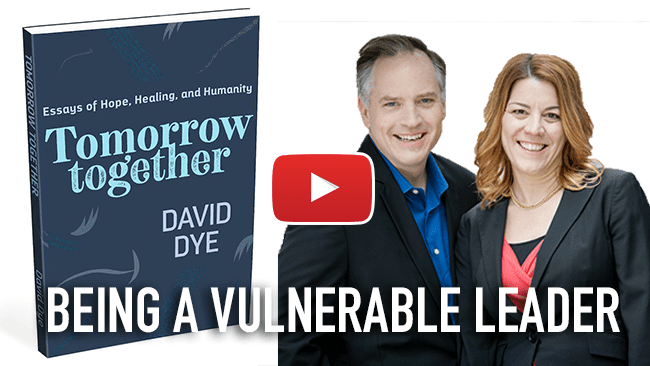 More About Tomorrow Together
Tomorrow Together, is a deeply moving collection of personal essays of healing and hope for humanity.
The twenty-first century hasn't started the way many expected. We confront a potent mix of global pandemic, global warming, the resurgence of authoritarianism, white nationalism, and war that once again threatens to consume the planet. It can feel frustrating and hopeless.
But there is hope for humanity. We have the resources, and wisdom, and most importantly: we have one another. Forty-two short essays that highlight moments of wonder, beauty, and connection.
Related Articles:
Managerial Courage: 7 Ways to Be a Bit More Daring
How I Learned the Importance of Being an Authentic Leader (also includes a video)
Authentic Leadership: 5 Big Mistakes That Can Derail Your Influence
David and I would love to hear your stories too. What's been a moment of hope or inspiration for you?