Being Courageous at Work Creates a Deeper Influence and Impact
Being challenged to be more courageous at work can feel overwhelming. You might find yourself asking (for a friend) just how to demonstrate courage as a manager.
Here's the good news. Most acts of courage don't require big bold actions. It's consistently doing the right thing time after time.
So this week, on Asking For a Friend, I bring you this very special managerial courage challenge to help you be more courageous at work. Or, to encourage courage in others. Each of the seven challenges was filmed at the ATD (Association of Talent Development Conference) where we were speaking about how leadership development leads to sustained culture change.
I encourage you to COMPLETE A CHALLENGE A DAY (or week) and notice the impact. Or even better, share this article with your team and complete the "courageous at work" challenges together to encourage courage in one another.
Your Courageous at Work Managerial Courage Challenge
1. Own your strengths
I'm going to bet you have a talent or strength you're holding back. Maybe it's not directly related to your job description and you want to "stay in your lane." Or, you're trying to stay humble, so you hold back your ideas.
Your first challenge is to consider one strength you could leverage a bit more.  If you're doing this Courageous at Work challenge as a team, take a few minutes and ask one of these conversation starters.
"What makes you a rock star in your role? How could we be leveraging that more as a team?"
"What's a skill or talent that you bring to the team that we might not know about or fully appreciate?"
Before you begin trying new ways to show courage, start by recognizing what already makes you a strong leader.
2. Ask for feedback
When people are really honest with me behind closed doors (or in a private zoom chat), I hear a few reasons people don't ask their peers for feedback:
1) they don't want to bother people or appear needy
2) there's an underlying conflict or tension and they don't trust the motives behind what they will hear
3) they perceive what they're doing is working and so they don't want to change
4) they've received feedback before and it was delivered poorly or was just stupid (like the time my boss told me a smiled too much)
5) they don't have time
So today's managerial courage challenge is to go ask a peer for feedback.
The easiest and most effective way to do this is to ask a specific courageous question. 
Rather than asking a big open-ended question, like "How can I be more effective as a leader," you can encourage their courage by asking, "what's ONE way I could be more supportive of you?" Being specific (just asking for one idea makes it easier to provide feedback. Of course, be sure you respond well (our REAP method can help with that). 
As a manager, showing your willingness to hear feedback from your colleagues goes a long way in being courageous at work.
3. Share an idea
If you've been following us for a while you know how passionate we are about this one. You can read about our Courageous Cultures research and download the first few chapters of our book Courageous Cultures: How to Build Teams of Micro-Innovators, Problem Solvers, and Customer Advocates here. 
If you're doing this challenge as a team, imagine how powerful it would be if you each shared one idea to make things easier or better
An idea can only make an impact if it's shared. Hopefully, you will inspire your peers to be courageous at work and share their ideas as well.
4. Address a performance issue
When employees come to me frustrated that their boss "LACKS COURAGE," their biggest complaint is usually that they let slackers slide.
They don't have the courage to maintain a culture of accountability or build a team who knows how to do that for one another.
So, here's your next "Asking for a Friend" challenge to help you to encourage courage and be more courageous at work.
I mention our I.N.S.P.I.R.E. method for feedback. If you aren't familiar with that approach to accountability conversations, start here. It's one of the most popular techniques we teach in our leadership development programs. 
 Though challenging, this can also help to quell the frustrations of your team members. Here's the #1 tip for mastering the art of the tough conversation.
5. Try a new approach
Your next challenge to help you be a bit more courageous at work is to try something new.
If "It ain't broke, don't fix it" feels comfortable, experimenting with a well-run pilot can go a long way in upping your managerial courage while managing your stress.
67% of the employees in our courageous cultures research said their manager operates around the notion of "This is the way we've always done it."
If this could be you, this is a managerial courage challenge for you.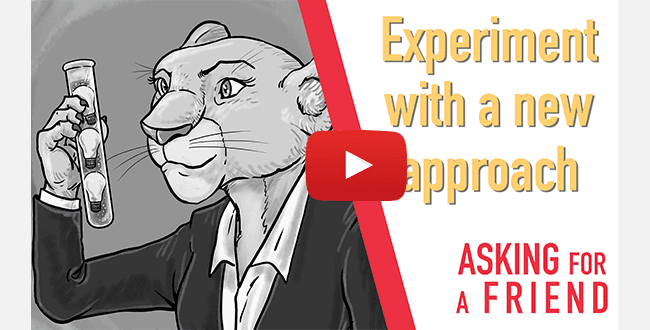 It takes a lot of courage to break from the routine, but it can lead to game-changing results.
6. Ask for help
I imagine that this nex managerial courage challenge might be tricky.
Ask for help.
This Harvard Business Review article is full of reasons why asking for help builds trust, reduces burnout, and increases job satisfaction. In case that helps encourage this aspect of being courageous at work.
And, I know it's still hard.
We don't want to be a bother.
We don't want to appear needy…
AND if you're looking to make the biggest difference possible, why wouldn't you get all the help you can on your important mission?
Asking for help is really a sign of strength, not weakness. Doing so demonstrates your humility and humanity.
7. Lift up your peers
Sometimes it takes courage to lift others up– to find and encourage heroes around you.
This one can be tricky, particularly if you're working in a highly competitive environment. And, it's one that I wish I learned sooner.
It's natural to support your team and your boss, but it's also so important to keep your peripheral vision open and notice and celebrate your coworkers.
So that's your final challenge in our 7-part, Asking For a Friend Managerial Courage Challenge.
Find a coworker to celebrate and advocate for them.
Having the courage to advocate for a team member will give them the courage to do the same for someone else.
I'd love to hear about how you're using this managerial courage challenge to be more courageous at work. Drop me a note in the comments!
To learn more about each of these ways to be courageous at work, click HERE