The Very Best Secret to Holding Tough Conversations
So often when we're asked to train teams on how to hold tough conversations, we find a deeper underlying issue that must be addressed first.
Has this ever happened to you?
Watch the Stage Version of this Story and Key Insights Here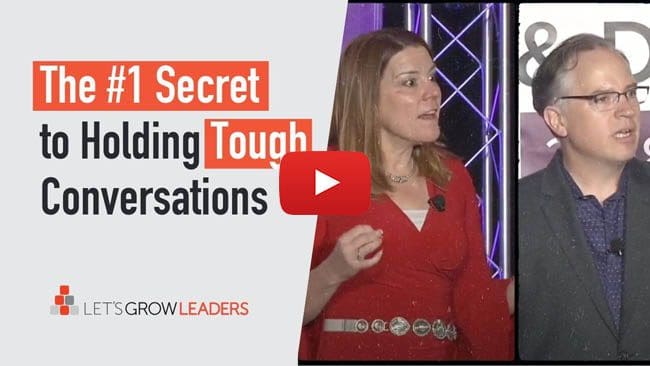 The Very Best Secret to Holding Difficult Conversations
Karin's story.
I had promised to take pictures of my son, Ben's, last marching band performance during his senior year of high school. This was a great job for me since I love my son and I hate sitting through an entire football game.
I raced into the parking lot just as the band was coming around the track during halftime, grabbed the camera, threw my high heels in the back seat, and ran down the grassy hill.
Thank goodness the band was just lining up on the far side of the track surrounding the football field. The sun was beginning to set, which I knew would make for perfect lighting.
I set up the tripod right on the fifty-yard line, adjusted the telephoto lens, and got some great shots: the mellophones doing their sideways stunt, some up-close headshots–I even made sure I got some great ones of his love interest crossing right in front of him.
I immediately went home to upload them to Photoshop for fine-tuning before he came home. I even put them into a powerpoint presentation. As soon as Ben walked in the door, I had him sit down for the show.
He watched unenthusiastically as I flipped through the shots.
"Hmmm. That one's alright. Uh huh. Okay, what else you got?"

I finished the show and Ben asked, "Mom, did you get the guitar?"

"Huh? Benjamin, you play mellophone."

"Mom, the band moves into a fantastic formation. It looks like a giant electric guitar right in time with the music. Did you get a picture of that?"

"Ughhhhh, no, I didn't."
I had completely missed the big picture.
Has this ever happened to you?
You're working hard. Your team is working hard. You care. You have the tools. You want to do the right thing. And somehow you don't meet expectations.
The #1 Secret to Tough Conversations: Avoid the Need For Them
What do you think I would have done if Ben had said, "Mom, no matter what, the most important thing is for you to get a picture of the guitar."
I wouldn't have been down at the fifty-yard line, with a telephoto lens, I would have been up in the bleachers with the panoramic setting on my phone.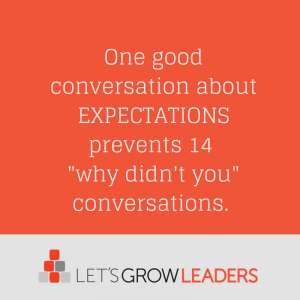 I would have asked about the timing to ensure I didn't miss it.
If communication is breaking down, start first by ensuring expectations are clear.
One good conversation about expectations prevents fourteen, "Why didn't you?" conversations.
Related Posts
How to Communicate Remarkably Clear Performance Expectations
Executive Visits: 4 Strategic Approaches for Influence and Impact 
The Simplest Way to Set Clear Expectations
Critical Thinking: 5 Ways to Improve Your Team's Capacity to Think