Delegate the Right Decisions to Save Time and Reduce Anxiety for Everyone
You want to empower your team to make the right decisions. But delegating can be scary.
After all, some decisions are not up to them. Heck, some are not even up to you.
So, how do you delegate the right decisions and ensure your team understands the decision-making parameters?
Recently we've had several clients ask us to help their managers get better at delegation.
So we've created this delegation decision-making tool (we call it the strategic empowerment tool) and incorporated it into many of our leadership development programs.
We thought it would be helpful for you as well in your work to delegate the right decisions.
The Strategic Empowerment Tool To Help Delegate Better
How This Tool Works
CONCEPT
People need freedom and autonomy in order to do their best work, solve problems, and build better ways of getting work done. But where should they use their discretion and where do they need to do it the "company way"?
What decisions do you want to fully delegate, which do you need some involvement, and which decisions do you just need to be kept in the loop about? Strategic empowerment removes the guesswork and helps people focus their creativity and problem-solving where it will make the most difference.
WHY this tool works:
Strategic empowerment provides clear definitions and removes the guesswork about where to innovate.
RESULTS
Clarity about how and when to innovate and creatively solve problems leads to more focus on established processes and more innovative solutions where they are most needed.
RELATIONSHIPS
Clarity about how and when to innovate and creatively solve problems creates psychological safety and trust between colleagues.
WHEN to use it:
Use the Strategic Empowerment to guide conversations before delegating or once or twice a year to reinforce parameters for decision making as you encourage your employees to solve problems and think more strategically.
How to Do I Empower My Team By Delegating Well?
This tool works very well at every level of the business from executives delegating to middle managers, to project managers, to frontline supervisors and employees.
In this Asking For a Friend, Karin shows how this strategic empowerment delegation tool can be used with entry-level customer-facing employees.
"How do you ask your staff to stick to policy but also provide an excellent customer experience by providing some degree of flexibility?" #AskingForaFriend.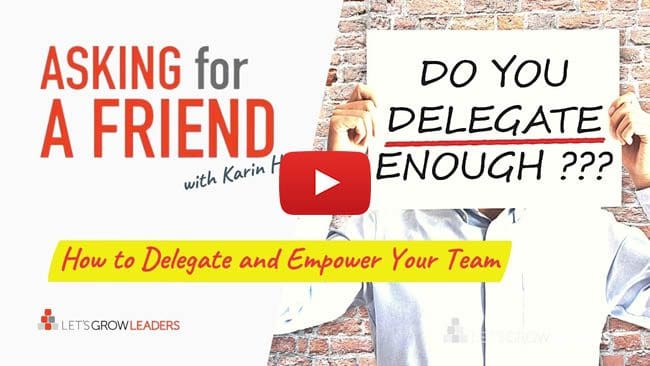 Your turn.
What are your best practices to get better at delegating the right decisions?
See Also:
Lead Your Team to Make Better Decisions, Faster
Effective Delegation, An Easy to Use Tool
Leadership Without Losing Your Soul Podcast Episode:  The Secret Ingredient to Master Delegation
Leadership Skills: 6 Leadership Competencies You Can't Lead Without