Cultivate Moments of Courage
The best way to find courage, is to remember that last time you did the right thing and how it made you feel. Small moments of courage make it easier the next time.
"All courage is a threshold crossing. Often there is a choice: to enter the burning building or not, to speak the truth or not … but there is another sort of courage we are talking about here – the kind when afterward, the courageous are puzzled to be singled out as brave. They often say, I had no choice."
– Mark Nepo, The Book of Awakening
Pay Attention to Small Moments of Courage to Garner Confidence For More
Courage shows up in these moments where you choose to live according to your values.
In Mark Nepo's quote above, he describes how people are often puzzled to be called courageous. If you've ever done something that others might not have done, but you did it feeling that "you had no choice"– that's because you'd made the first choice much earlier in your life.
At some point, you made a choice about what you value. About what's important and who you want to be. Every decision after that makes the next one easier.
Until, at some point, it's not conscious courage; it's just you being you.
Of course, "just being you" doesn't mean you can recklessly speak your truth.
A Courageous Moment That Backfired (Karin's Story)
One of my most regrettable moments in my career is when I lashed out in rage at a manager in another department who I felt was discriminating against one of my top performers because of race. I used words I regret, at a decibel I regret, at a place and time I regret.
I had the speaking-up part right, and my anger was justified. No regrets there. But how I spoke up and when I chose to do it, completely derailed my ability to influence the situation and damaged my reputation. I learned so much from that regrettable moment. Courage also means that you know your triggers, you manage your emotions, and use them to take constructive action that creates real change.
In our book Courageous Cultures, we talk with navigating the narrative. Which means you identify the stories where you are the best version of yourself, as well as the times you learned positive lessons, consciously choose to remember them, and use them to inform your choices today. It becomes easier to be that best version of yourself the next time. As you do, your commitment to your values grows stronger than your fear.
A Powerful (and Easy Exercise)
1. Map your courage.
To build your Courage Map, make a broad timeline of your career, thinking back to your early roles as well as more recent ones. Now think about the most courageous acts you did in these roles and lessons learned along the way. If you're like most of our clients you'll recall some great ones that you haven't thought about in quite some time. If you're struggling to come up with at least three examples, ask people who know you well to describe their memory of your most courageous act at work.
2. Reflect on your courageous moments.
Once you've identified a minimum of three moments of courage, for each courageous act, ask yourself the following questions:
What motivated me to be courageous in this circumstance?
What did I expect to happen?
And, what actually happened as a result?
How do I feel about this incident?
What values did it reveal as important to me?
As a leader today, where would it be helpful to show up more like this or with these values?
3. Look for themes.
What do you notice about yourself in these stories?
What makes you proud?
Can you identify the essence of these stories that you hope to carry forward into your future stories?
What lessons do you have to share with your team?
How will you tell them?
4. Invite your team to reflect on their courageous moments as well.
Invite your team members to complete the exercise and schedule some time to discuss as a team. Have each person pick one story to share. Look for themes? What do you notice about the underlying values of these choices? What are the key lessons from these stories you can leverage as you begin your work to build a more Courageous Culture?
Start Here to Build a Courageous Culture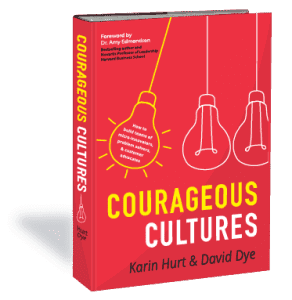 Want to learn more about building a courageous cultures on your team? Download a FREE sample chapter and take our FREE Courageous Quiz here.
See Also: How to Disrupt the Disruption and Help Your Team Move Forward