Want To Retain High-Performing Employees? Tell Them
When you have limited time for employee development, it's tempting to focus on the employees who need it the most– employees who need training or who are struggling to feel included on the team. After all, your high-performing employees seem good.
And here's the challenge. Your high-performing employees long to be seen and valued. Just like every human being.
These are all real statements I've heard from high-performing employees in the last few weeks:
"Oh, we don't worry about observing our high-performing call center reps. We just focus on the ones who are struggling."
"John doesn't really need a training and development plan like everyone else. He's a high-performing employee and has his job nailed."
"Well, he's a bit rough around the edges, but we don't say anything. He's so good at his job, we're afraid to tick him off."
"Oh Sally's good. She loves what she does. Thank God for her. She's a really high-performing employee.  She just likes to be left alone to do her thing."
I get it. They've got it. You can count on them. They don't appear to want your help. They don't complain. You've got other fish to fry.
But the truth is when I meet with such high-performers and ask what they need, here's what they tell me they long for from their boss.
7 Things Your High Performing Employees Long to Hear You Say
1. Wow! Thank you
"Wow" is a highly under-used word in corporate America. It's okay to be impressed. No one's going to slack off because you were wowed.  A big "Wow" followed by a genuine and heartfelt "Thank You" from someone a high-performer respects will trump almost any token of appreciation you can offer.
2. I know what you're doing isn't easy. I'd love to hear more
No matter how easy they make it look, it's not. Your high-performing employees are dealing with all kinds of challenges. They would love to tell you some stories. And the stories are worth hearing. If you want to truly invest in them, pull up a chair and really listen.
3. Can you show me how you did that?
Think about the last time you figured something out that you were wildly proud of. What did you long for most? My guess, is you wanted to tell someone.
Ask for details. And,  if you're amazed, show that. Of course, you might just discover a best practice.
4. What could we be doing to better serve our customers?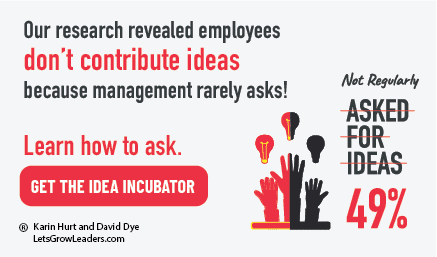 They know. If you truly care about the customer experience ask this question, listen and do what you can to take action on the response.
In our Courageous Cultures research, 67% of employees said aren't regularly asked for their ideas. And 40% said they lack the confidence to share their ideas.
5. What's getting in your way?
Just because they're low maintenance, doesn't mean they don't have a list. Every time I've asked this question I've been surprised about how some of the roadblocks they perceive are easy to remove.  No, you can't fix everything. But if you can fix a few small things getting in the way of your highest performers, can you imagine the ROI?
6. What do you want to do next?
High-performing employees want to know you care about them as much (or more than) the work. Make that clear.
7. I want to help you do even better.
Challenge them. Help them grow.  Ask them what they need. True high-performers almost always want to achieve more. Inspire them to get past the tired.
Not every high-performing employee is looking to be promoted. And that's fine.
You need rock stars in every role. But every high-performer is human and longs for appreciation, connection, and wants to be heard. It's so easy to direct our attention to the folks who need our help the most. Be sure to pay attention to your top 20% as well.
Your turn. What are your best practices for supporting and developing your high-performing employees?