Your team has questions they're afraid to ask. They've got limited information, but they figure if you wanted to tell them you would.
They worry that raising the issue will look like insubordination, or somehow make them look less in your eyes. Maybe you can share, maybe you can't. But that doesn't make the questions go away.
If you want to build trust and connection, anticipate the questions on their mind and start the conversation. I've been asking around for input into one simple question "What question would you most like to ask your leadership (but are afraid to). And this question is at the heart of my Asking For a Friend Vlog.  Here are the top 10. Please add yours.
10 Questions Your Teams Afraid to Ask
Why are we doing it this way?
How's our company really doing?
Why didn't you ask us?
Why is _____________ not dealt with?
If I speak up, will it hurt my brand?
Do you think I'm ready for a promotion?
Why is there so much turnover?
How can we get past this feeling of constant crises?
Is this really as urgent as you're making it out to be?
 ________________________ (what's your #10?)
Conversation Starters
If you want your team to ask more of their scary questions, here are a few ways you can start the conversation.
If I were you, I might be wondering…
The last time something like this happened I had a lot of questions such as __________
I just read this blog post about questions your team's afraid to ask, and it made me wonder, what questions do you have that I might be able to answer 😉
Ignoring the tough questions doesn't make them go away. In fact, your team is likely asking the questions, to themselves and to one another. Tackling the tough conversations head on will go a long way in building trust and respect on your team.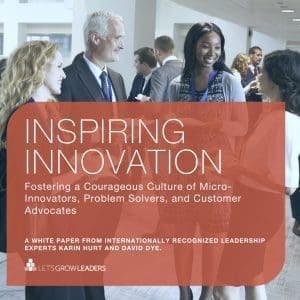 Learn More About Nurturing a Courageous Culture by downloading our FREE Inspiring Innovation Whitepaper.