Clear communication gets you past "magical thinking" to create a shared understanding of success.
Think about any significant conflict you've been a part of. We'll bet that somewhere along the line, clear communication was compromised, and "magical thinking" crept in.
It happens all the time.
You assume they should know what's expected because ________ fill in the blank here (e.g. after all, they're a grown-up, have a certification, have been doing this work for a decade, get paid the big bucks, or weren't raised in a barn).
For example, you thought they'd clean up their coffee mugs after the meeting. They thought the magic coffee mug fairy would take care of it. Clear communication can be tricky, particularly when you don't think you should have to talk about something. After all, shouldn't they just "know?"
We all carry around expectations of one another. And sometimes, you don't even know you have an expectation until someone doesn't live up to it. One of the common mistakes we see people make in workplace conflict is that they don't clearly understand what success looks like.
When Clear Communication Breaks Down
When clear communication is lacking, you get conversations like this:
Jack: "I don't like this."
Jill: "Okay, what would you like to see happen?"
Jack: "I don't know. I'm not sure what I want."
Can you feel the frustration?
That's a conversation that can't go anywhere because communication is unclear. When you get clear for yourself and help other people find their clarity, you can have a more productive conflict conversation.
Start by getting clear about what a successful outcome looks like for you.
In our recent article, Let's Talk About It: How to Have the Conversation You'd Rather Avoid, we offer 5 grounding questions to ask yourself to prepare for a difficult conversation.
The first of these questions is vital when you're looking for greater clarity in your communication: "What do I want to happen because of what I say?"  And then use the powerful phrases below to get curious about what's happening from others' point of view.
3 Powerful Phrases That Lead to Better, Clear Communication During Workplace Conflict
Some of the most powerful phrases you can use in any conflict are those that lead to greater shared understanding and encourage clear communication.
1. What would a successful outcome do for you?
You may or may not agree on what success looks like, but clear communication around expectations can save a lot of time and wasted energy. Maybe you envision a perfectly organized file cabinet, while they're just hoping it doesn't bite back when opened. Either way, aligning your objectives is a step toward resolution.
If it turns out you both want the same thing, you can shift to a "how can we" conversation. "Great, it sounds like we both want something similar. So how can we make that happen?"
At the very least, this powerful question gives you insights into what the other person needs, and then of course, opens the door for you to share your definition of success as well.
2. Let's start with what we agree on.
When you're in the middle of a workplace conflict, it's easy to overlook the common ground. It's likely you share some common perspective to build on. Taking a few minutes to know what you agree on can help reduce stress and create a more collaborative tone for the work ahead.
Perhaps it's as basic as "coffee is life" or "Tuesdays are weirdly exhausting." Whatever it is, finding a shared perspective can serve as a launchpad. Not only does it calm the stormy seas of disagreement, but it also helps remind you both that you're on the same team working toward something important.
3. What I'm hearing you say is __________. Am I interpreting that correctly?
If you've been in one of our leadership programs, or are familiar with our 6 leadership competencies you can't lead without, you'll recognize this as a check for understanding. You show that you're actively listening, interested in, and truly understand the other person's point of view.
This technique ensures you've caught the crux of their concerns and not just the part where they mentioned the one thing you agree with.
This powerful phrase is gold when working through workplace conflict because it also helps clear up misinterpretations and misunderstandings.
Being clear about successful outcomes can save a lot of wasted time and energy and focus your conversation on what matters most.
Coming This Spring (Available for Pre-Order Now)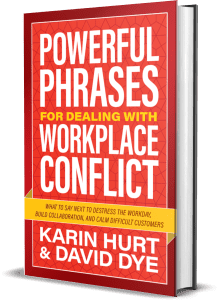 If you've noticed we've been talking about workplace conflict and collaboration a lot recently, it's because we've been doing a lot of research, learning from people all over the world about their biggest workplace conflicts and what they would do differently next time. We'll release that research in the next few months. Stay tuned.
In the meantime, our new book, Powerful Phrases for Dealing with Workplace Conflict: What to Say Next to Destress the Workday, Build Collaboration, and Calm Difficult Customers is available for pre-order now, and we're working on building our speaking tour for Spring 2024 (you can take a quick peek at some of our new conflict and collaboration programs here).
Oh, and stay tuned for more exciting announcements coming soon.
Your Turn
We would love to hear from you. What's your best approach to ensure clear communication and align expectations for more productive conflict conversations?