You've Got a Good Team, Don't Let That Stop You From Making it Great
You've got a good team. The results are solid. You genuinely like one another. Trust is good too. And yet. You have a feeling you're capable of more. What's missing?
If you're fortunate to be working on a good team, it can be tempting to keep doing what you've always done. But Marshall Goldsmith's advice for leaders is true for teams too, "What got you here, might not get you there."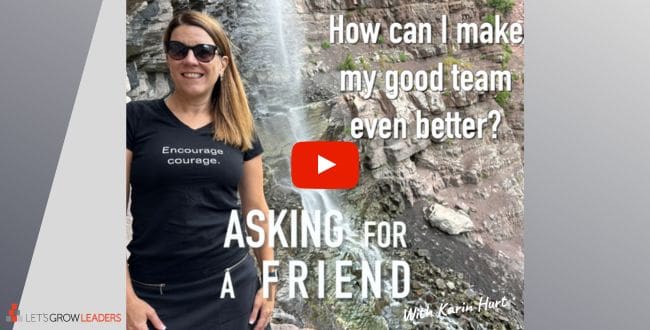 3 Characteristics You Want in a Team, That Might Also Slow Future Success
If you want your good team to continue to take their performance to the next level, you might consider if any of these seemingly good indicators could be potentially sabotaging future success.
1. Great Results
Wait what? Aren't great results precisely the point? Yes. And, if you want your good results to continue, what matters most is knowing how you got them.
If your good team's results are the outcome of a deliberate strategy, well executed. Game on. Congratulations! Keep creating that clarity and focus on what matters most and support your team to get there.
And in this wild ride of the last few years, we've been hearing lots of examples of teams that got results BECAUSE of a wacky turn of events that tipped the tables in their favor… for a minute: An unexpected surge in demand due to the pandemic or a literal change in the weather, or a competitor folder their tent… In these kinds of circumstances, the team is celebrating their great results, but at the same time, might not have a solid plan to replicate them in the future.
An important part of celebrating a win is to ask "Why did we win, and what can we learn from that in the future?" If the answer is, "and then we pray for a break like that again," you probably need a bit more planning to ensure sustained success. A regular cadence of post-project celebrations can work wonders here.
2. Everyone LOVES one Another… We're like Family
(see also: How to Motivate Your Team: Stop Treating Your Team Like Family)
You know we're HUGE believers in putting people before projects and fostering trust and connection. Trust and connection at their very best lead to candor, productive conflict, and accountability conversations that lead to better results AND relationships.
And, a dynamic we notice quite frequently on tight-knit teams, is that they sometimes shy away from important accountability conversations. They dance around conflict or stuff it in the diaper genie. 
In many teams, the closer the relationship, the harder it is to speak the truth. Future success and innovation require genuine conversation, even when it's hard.
3. Your Amazing SOPs (Standard Operating Procedures)
Yes, yes, yes. Systems and processes are vital when it comes to high-performing teams. If they're working for you, keep them. And if you've got a nagging feeling that your good team could be better, it might be time to ask a few courageous questions. 
"What's one of our SOPs that's getting in our way?"
"If you had a magic wand and could instantly change one of our SOPs, which one would that be and why?"
Here's the good news. The best time to help a good team become even better is when it's already a high-functioning good team. When trust is high, you're connected, and results are good, that's the perfect time to surface the conversation.
Your turn. What have you experienced? What are some of the good team characteristics that can hold them back from being great?
Let's Talk About It: How To Start the Conversation Everyone Wants to Avoid