To Change Your Reputation Set Human-Centered Goals and Stick With It
It can be super challenging to move beyond the stories of the past that affect your leadership reputation. We all have mishaps from the past that haunt us. Leadership is never handled. We're always in progress. If you're looking to change your reputation, today's Asking for a Friend is a start. What would you add?
Why It's Hard
Have you experienced this? You've been "all in" to improve your reputation, showing up as a competent, human-centered leader…but people still talk about when you lost your cool, stole credit for an idea, or were overly critical of other people's ideas.
Whatever your leadership reputation holds, you can change your reputation with clear goals and persistent effort.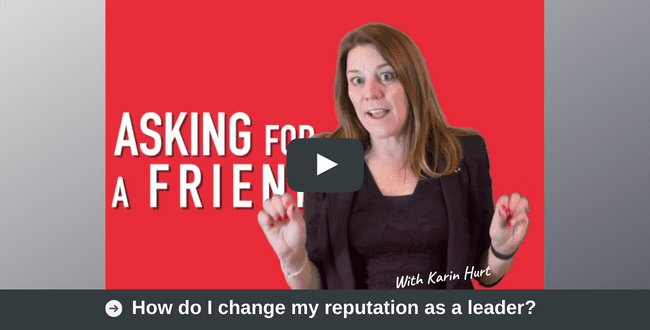 Why Is Your Leadership Reputation So Important?
Your reputation defines your personal brand as a leader, and it's how others would describe you in one sentence. Imagine your colleagues or employees describing you when you're not around. What would they say?
Sure, your reputation might include some positive statements, but what if there is a BUT included?
"She's a good person and very nice, BUT she doesn't follow through on her commitments."
"He's the best sales guy we have BUT he's really hard to work with and hyper-critical."
"They have great ideas, BUT lack the leadership know-how to make things happen."
7 Ways to Change Your Reputation
Define the Leadership Qualities You Want
Start by defining success.
Try completing this sentence: "I want to be remembered as a leader who _________." Identify the strengths you can build on and take a close look at your biggest opportunities for improvement.
Ask Courageous Questions to Understand Why You Have the Reputation You Have
Ask for honest feedback about your reputation.
To change your reputation, try asking these specific, humble courageous questions in pairs…one strength to build on, and one opportunity to improve.
What's one behavior that you think helps my success as a leader? And, what's one that undermines my success?
What is one way my current leadership style positively impacts the team? And, what's one way my current leadership style gets in the way?
Let Others Know What You're Working on and Why You Care
If you let people know what you're working on and why it matters, they're more likely to notice your change in behavior. When you let people know you are working on a change, you set them up to better see it and recognize you for the improvements you make.
Stay Consistent While Being Generous
Repetition is helpful and consistency is the key to lasting change. However, you don't want to appear overly needy or only focused on your own career. Try to integrate your plan to change your reputation into your everyday activities without going overboard. Stay on track with your reputation transformation and also be generous in supporting your team and colleagues.
Be Interested in Your Team
They are – after all – the people who hold your reputation and see you more than anyone else in your organization. Show them you care. Ask supportive questions. Let them know you're trying.
Be a genuinely interested and supportive leader who shows up as consistently helpful in order to increase trust and connection. At Let's Grow Leaders, we call this "land in the AND" – be an interesting expert AND an interested connector. Be sure to review our 6 Core Competencies You Can't Lead Without.
Admit When You Screw Up and Invite Your Team to Hold You Accountable
When you let people know what you're working on, you can then ask for help.
You might say, "I'd really appreciate if you could watch out for me doing __________. Can you please let me know when you see me doing this well? Or if you see me doing this behavior, please point it out to me so I can do better."
A quick, sincere apology goes a long way in building your trusted leadership brand.
Don't Give Up
Changing your reputation takes time. Stay focused on consistently doing the right thing. Even if you can't transform your damaged reputation in your current situation, the investment in changing your reputation can put you on track for success as you continue to develop your career.
Check out these related articles:
How Do I Stop My Boss From Treating Me Like a Kid
How to Improve Your Executive Presence to Have More Influence and Impact
Asking for a Friend with Marshall Goldsmith: How Do I Find More Meaning in My Work
How to Stop Being Perceived as Negative at Work
How to Overcome Negative Perceptions for a Better Leadership Brand