GOAT Powerful Phrases for Navigating Conflict at Work, and You
This is a first, I don't usually talk about GOATS on Asking for a Friend, but today is special. We are putting the finishing touches on our manuscript due to Harper Collins at the end of this month. The new book is called Powerful Phrases for Dealing With Workplace Conflict: What to Say Next to Destress the Workday, Build Collaboration, and Calm Difficult Customers,
The new book includes research and insights from our World Workplace Conflict and Collaboration Survey (that's another way you can contribute).
So where do the GOATs come in, and what does that have to do with you?
The book includes hundreds of powerful phrases for dealing with challenging situations, with a focus on some GOATs (Greatest of All Time) approaches that work in almost any situation.
These GOAT phrases for dealing with conflict at work fall into 4 key categories.
Connection: To recognize the humanity in others
Clarity: To build a shared understanding of success
Curiosity: To ask great questions and actively listen
Commitment: To make and keep clear agreements
We'd love your help designing these GOAT superhero emblems.
One for each GOAT. For example, when you think of "clarity" what images come to mind? A telescope, a big eye?
How about curiosity? Perhaps a listening ear? Or a lightbulb?
So we're asking for a friend. Will you help our GOATs suit up with your best ideas of what we should include in each of their shields?
We've received some great ideas so far on LinkedIn. You can comment with your ideas in this article, or add them to the LinkedIn ruckus.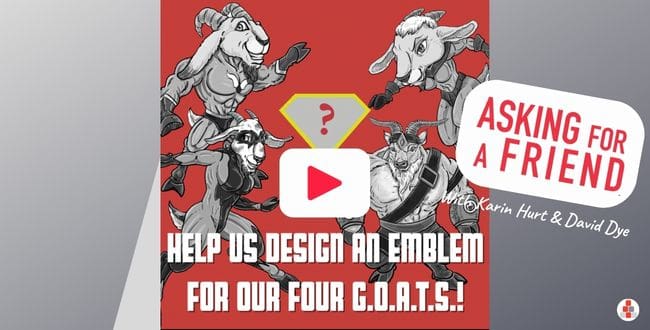 A Footnote on GOATs
The term "Greatest of All Time" (GOAT) originated in the world of sports, specifically in reference to exceptional athletes who are considered the best in their respective fields. While the exact origin of the term is unclear, it gained significant popularity in the 1990s and early 2000s, particularly in discussions about legendary athletes like Muhammad Ali (boxing), Michael Jordan (basketball), and Pelé (soccer).
The acronym "GOAT" was used as a shorthand way to describe these athletes' unparalleled skills, achievements, and dominance in their sports. Over time, the term expanded beyond sports and began to be used in other domains, such as music, entertainment, and various other fields, to denote individuals who are widely regarded as the best in their respective industries or disciplines.
It's worth noting that the use of the term "GOAT" is subjective, and debates can arise about who truly deserves that title. Nevertheless, it has become a widely recognized expression to acknowledge exceptional talent and accomplishments.
A few related articles on dealing with conflict at work
Should I Quit This Conflict? How to Know When It's Time to Leave?
Navigate Workplace Conflict: 3 Powerful Phrases to Foster Better Connection
How to Say No at Work: Powerful Phrases to Stand Your Ground