When your responses are perceived as negative it's time to change your approach
"Don't be so negative" can be incredibly frustrating feedback to receive when you're genuinely trying to help and don't want to be perceived as negative.
Or as one manager told me when she is perceived as negative, "It's not that I'm negative, it's just that I care so F-ing much!"
It's heartbreaking to talk to well-meaning employees, who care deeply about the business, and whose ideas are being ignored and perceived as negative because of the way they communicate their concerns.
One of the big culprits that leads to a negative Eeyore leadership style, is HOW YOU RESPOND TO IDEAS.
How you respond to ideas will influence how you're perceived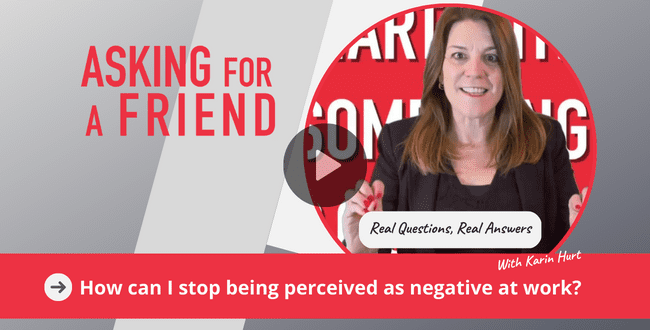 Imagine this. You're in a leadership meeting, and your boss proposes an idea that sounds great IN THEORY. But you're closer to the situation and you can easily see 3 major obstacles to executing that plan.
What do you do?
You might say something like, "I see a couple of challenges here…" and then list them.
Are you wrong?
Of course, you might be right. And that you want to save the business time and money. the team's welfare. Your concern is legit.
You care. You're correct. And yet, you're called negative. Why? It could be you're getting to the problems too quickly.
Your "get things done" crowd, the roadblocks are frustrating—they want to see action.
If you're talking to an "idea person", they want to explore and build on ideas, not have their creativity and energy crushed before their ideas can breathe.
And for relationship people, jumping straight to problems feels harsh and disrespectful.
Roadblocks…crushed…harsh…disrespectful. What do all these words have in common?
They are negative. And this is why you might be perceived as negative.
And that's why your supervisor or colleagues think you're being negative when you attempt to help by heading off problems, assuming you're always correct in your analysis. Which of course, is unlikely.
If you're perceived as negative, try this…
David Dye offers up some solutions in his article How to be Less Negative and Still be Yourself. He explains the first step is to Affirm the Idea…find something interesting, fun, or positive about the idea, and say that first. It always feels good to hear positive feedback first.
Step two? Package your concerns as solutions or opportunities. What do you have to offer that can empower what's good about the idea and provide or clarify a path to success?
And step three…Take responsibility for your own state of mind and tone when you respond. To avoid coming across as negative, make sure you are in a positive state of mind, and if that's difficult at that moment, pause. Perhaps you can ask your colleague if you can discuss their idea another time.
What would YOU ADD? How do you help a team member who is perceived as negative?
See also:
Why Your Team Can't Innovate When You Want Ideas and Try to Help
How to Overcome Negative Perceptions for a Better Leadership Brand
How to Not Screw Up Your Brand Even When You've Been Screwed Over