Practical Advice for New Managers
(An Asking for a Friend Interview with Bill Treasurer)
"Karin, I'm new to leadership. And, I really want to come off strong as a new manager. What recommendations do you have for starting off strong?" #askingforafriend
Well, you know I have lots of thoughts on this one..start with confidence AND humility and focus on results AND relationships.
Stay focused on the MIT (the most important thing), communicate consistently with 5×5 communication, and be sure to check for understanding. AND, schedule the finish.
And today, I've invited my friend, and kindred spirit in human-centered, courageous leadership, Bill Treasurer to expand the conversation with insights from his new book, Leadership Two Words at a Time.
A few of Bill's Two-word insights for a New Manager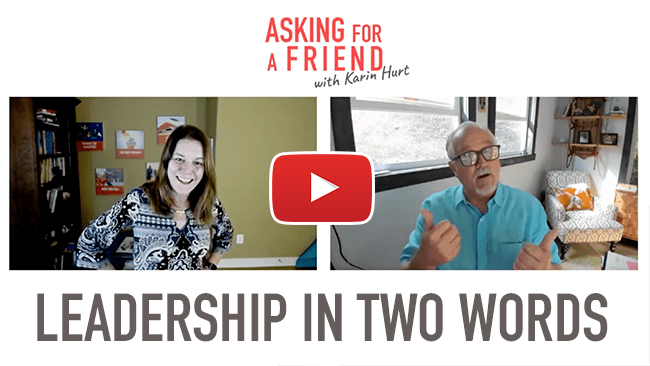 Bill's book is dived into three sections: leading yourself, leading others, and leading work. And then he provides practical advice two words at a time.
1. Two Words for Leading Yourself:  Know Thyself
I love his idea of imagining there are 5 values flags marching ahead of you in every situation 1:16).
2. Two Words for Leading Others: Invite Challenge
2:19….I particularly like Bill's thoughts on teaching your team how to dissent, so when they do it, they are following through on what they asked you to do… creating psychological safety.
3. Two Words for Leading Work: Make Money
You won't want to miss our conversation on RTFCA at 3:51
Your turn.
What are TWO OF YOUR favorite words of advice for a new manager?
See Also: