Employee retention happens at every phase of the employee experience.
You have a highly valued employee who you sense is looking for a new opportunity. You'd hate to lose them, but you know people are leaving jobs during this "Great Resignation."  How do you get them to consider the "Great Return" or even better, not leaving in the first place?
Today on Asking for a Friend, I speak with employee retention expert, Beverly Kaye, author of Love 'Em or Lose 'Em, Getting Good People to Stay.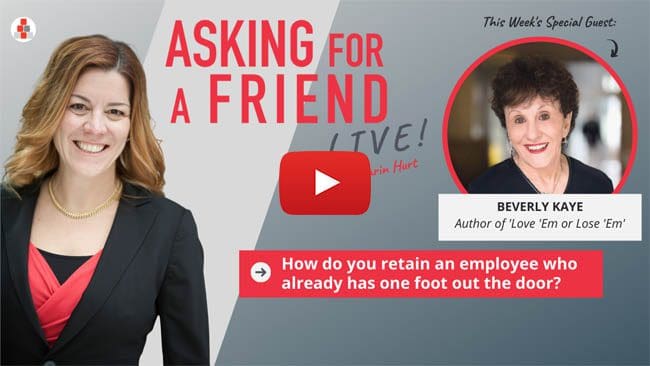 Some of Bev's Best Bets for Retaining Employees
1:21 Allow for an elegant exit because there is potential for a return. People are "boomeranging" back to jobs they left.
2:37 If they are intent on leaving, talk to them about their job equity: social, influence, skill, and finances to make sure they understand what they are leaving.
4:52 How do you handle the concern that people are leaving because they are less connected when working remotely?
Free Resource for Employee Retention
Bev has written a free resource Staying Connected While Working Apart. Click here for your copy.
Your turn: What ideas do you have for retaining a valued employee?
Check out David's interview with Bev Kaye on Leadership without Losing Your Soul podcast