Don't Miss This Important Opportunity for Diversity Hiring
I'm having to do so much hiring because of the great resignation. I don't want to miss the opportunity to do it right. What are some diversity hiring best practices? #AskingforaFriend? 
Diversity hiring goes beyond checking boxes and percentages. It means looking at processes, language, and consideration of people of all kinds of varied backgrounds.
Arthur Woods, Author of Hiring for Diversity: The Guide to Building an Inclusive and Equitable Organization, joins this episode of "Asking for a Friend" with practical tips for diversity hiring.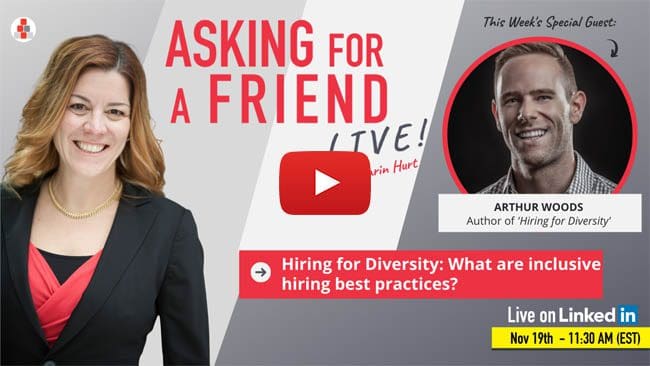 Diversity Hiring Best Practices (Conversation Highlights)
1:42 Why diversity hiring is so important to Arthur. As a gay man, he's experienced working in both inclusive and non-inclusive organizations. He knows the importance of psychological safety,
4:01 Set Hiring for Diversity Goals
76% of employers have not yet set diversity goals. Without goals, it's hard to make progress.
5:05 Re-focusing your metrics.
In order to take your diversity hiring to the next level, consider your metrics. Think beyond percentages.  Instead, introduce two other metrics: process and inclusion goals.
7:20 Examine your company's online presence to help with your diversity hiring.
Understand the mindset of your job seekers.  And, consider how your job postings come across to them. The stock photos and compliance statements can feel fake. Instead, tell a story of why diversity truly matters to your organization.
12:15 Carefully review job descriptions.
Want an easy place to start, consider your job descriptions. It's easy to go on auto-pilot, pulling up templates, and making minor adjustments. Instead, think about essential elements of the role that may allow you to consider people of unconventional backgrounds. Remove gender-coded terms (i.e. aggressive).
Neutralize exclusionary terms, buzzwords, and acronyms that job-seekers won't understand.
And, minimize subjectivity and vague language.
17:19 Apply these additional tips and observations.
16% fewer women apply on LinkedIn
Make sure the qualifications in the job descriptions don't feel out of reach.
Reframe how you require experience. Asking for 3-5 years of experience can deter those on the lower end of the range. Instead, say 3+ years.
Communicate the salary range.
21:10 Improve your ability to retain talent.
Look beyond the hiring process. Set employees up for success from the point of onboarding. Many new employees don't receive mentoring and guidance in their first three months.
22:40 Broaden your perspective on sourcing.
Organizations may feel, "I am representing my community" if their community is not very diverse. But go back to determining what diversity means. It's not just about gender and race. It includes refugees and immigrants, older and younger, working parents, those with a disability, etc.
27:06 Eliminate interview bias.
Interviews are the main-stage event of the process. Focus on structure and consistency.
To be more inclusive in your interview process, reserve 10 minutes before the interview to be mindful and intentional about what you will ask.
Also, be careful with the personal chit-chat that can lead you to connect more with a candidate because of a common background or shared experiences. Yes, it can make one candidate feel connected. But, it can also lead you to an unfair bias.
29:17 Remember, leaders drive the change for diversity.