How do you tap into the grit and tenacity when you are exhausted? In this week's Asking for a Friend  I speak with World Class Ultra Triathlete, Kurt Madden, who is also CEO of The Collaborative, about leadership tenacity and grit.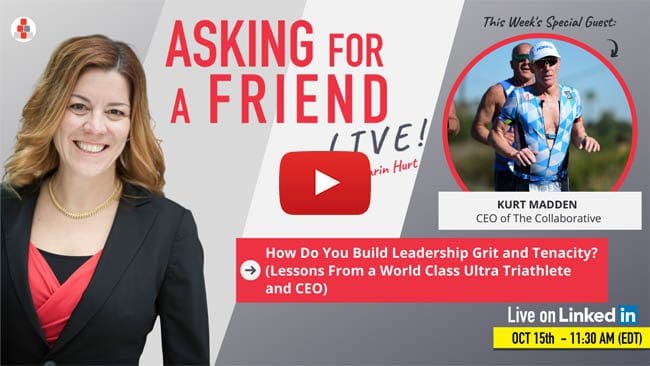 What is tenacity? And where does it come from?
I love this definition of tenacity: "The state of holding on to an idea or thing very strongly."
Because if you're a leader, who really believes in the "the idea or thing" you're leading your team toward, that passion and tenacity can become contagious.
Asking For a Friend Conversation Highlights
2:47 How does grit and tenacity developed as a tri-athlete translate into your role as a leader?
Take stock of yourself – Where is your grit factor?
Most of the grit is in your mind.
Commit not to quit.
Be willing to hang in there longer than anyone else.
Lead by example.
5:07 Defining tenacity
No matter what you encounter, you can adapt/pivot.
Resiliency – inner confidence and humility to hang in there a little longer
6:06 How to coach someone to tap into and to nurture their own confidence
Get into their hearts. That will lead to getting into their heads. Build trust.
7:56 How Kurt applies some of what he learned as an athlete into his role as a CEO.
Daily reflecting on leaving a legacy.
Developing a sound culture.
Taking stock about whether he is personally growing.
Making enough professional development available.
A "no-finish line" attitude.
Life-long learning.
11:00 Getting into leadership development with your team
Be the lead learner.
Model a growth mindset.
Harness the collective genius of the group.
Do after-action reviews.
Schedule the finish.
Add up the years of experience on your team.
13:30 When you have the moments when you wonder if you can continue, what conversations do you have with yourself?
Name them: dark moments
Have a mindset that you will have major regrets if you don't finish.
I've gotta go a little bit longer.
17:49 Additional advice for people who are leading people who are tired.
Mental health is paramount.
Create white space.
Take care of yourself daily – start with you first.
Consider the Most Important Things.
Focus on relationships.
Play the long game.
22:20 Thoughts about discipline
Overcome inertia.
Get to a routine/structure.
Don't second-guess yourself.
Plan the week out but allow for flexibility.
Delay gratification.
Be willing to shift.
25:20 One great story
28:48 Last bits of advice
No matter how bad it gets, commit not to quit.
Keep culture a top priority.
Keep growing and learning.
Do things with integrity, pride, enthusiasm, and trust.
Your turn. I would love to hear your stories of how you find, and hold on to, leadership tenacity and grit.