Balancing Empathy For Employees Needs with Execution and Accountability
How do I balance empathy and execution? On this week's Asking For a Friend, I talk with Sara Canady, leadership expert and author of Leadership Unchained.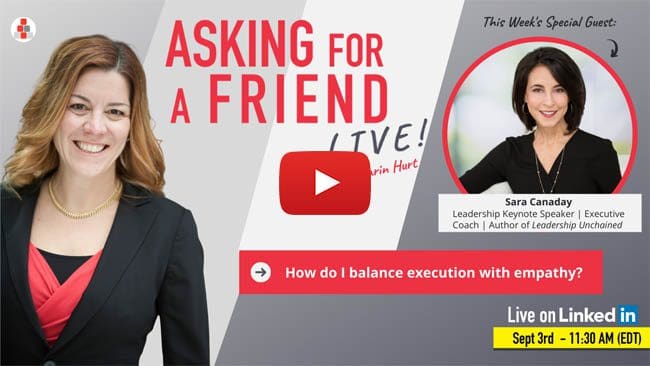 5 Ways to Think About Empathy at Work
(Read more in her article Leadership Expectations: How to Juggle the Demands of Empathy, Expectations, and Inclusion)
Make your organizational values strong and clear
Provide proper training
Keep the focus on solving the work group's problem
Loop employees in on decision making
Give some employees ownership in the discussion process
Highlights from our Conversation about Human Connection and Execution
1:20 People want to show up with genuine empathy, and there are also business realities
1:44 Sara is hearing from overwhelmed leaders who know that being inclusive and giving their employees a voice is important. Yet, they need to meet objectives.
3:05 Empathetic conversations take a lot of time.
3:18 Five ways to think about empathy at work
3:30 Values: redirect and reconnect your team to the "why" of what you are doing. We are fighting for people's mindshare.
5:18 If you are expecting leaders to facilitate challenging conversations with empathy, they need to be equipped to do it.
7:10 Some recommended elements for a training program: reinforce guiding principles for interaction, reflect to connect, show up calm, scaffold the agenda so people know the expectation for the time/conversation
11:42 It can be helpful to allow a team member who is equipped well to lead such conversations so this type of work doesn't always fall on just the team leader.
Return to Work
12:40 Return-to-work issues are a big topic right now – loop your employees in on the decision-making. This engages the team, provides more ownership, provides for customization per team.
15:09 Be clear on what success looks like.
16:45 The real emphasis on connecting people to the why is that we have got to get part of our employee's mindshare back. Way too much is competing for their attention.
"Asking for a Friend"
18:00 Question from a listener who feels like they are being treated like a child.
18:29 Have a conversation with your boss about how you can be of most value/contribute at a standard of excellence, pointing out if the leader's requirements will help or hinder that and asking what your boss would suggest.
20:14 A study about political discussions – over 60% of leaders have said they have no training for facilitating those types of conversations. 80% of employees wanted their companies to take a stand on a political issue, yet the percentage plummeted when asked if they wanted to discuss politics at work.
22:50 Generational challenges – have some conversations and let people have some wins – how much are you talking about the problems we are trying to solve?
23:55 A company and culture will thrive if leaders are inclusive, give their employees a voice, but also pay attention to the fact that there is a business to run.
24:25 Additional suggestions: At the end of the day, we are working with people. People will drive our results. Create some specific guidelines (i.e. about response times, things that worked/didn't work). These conversations can lead to more empathy because people may open up.
27:05 Some leaders take on too much of their team's emotion and stress. Focus on ways to move forward focused on the "why" of the team and enrolling them into the guiding principles. Leaders aren't responsible for the individual happiness of each team member.
28:40 Use the word "and" rather than "but."
29:17 Sara shares about her books, You According to Them and Leadership Unchained.
Your turn. What are your best practices for balancing empathy with execution?