Building a high performing team takes rhythm.
In this week's episode of Asking for a Friend, we talk with Virg Palumbo, Regional President at Kforce. A former marine, Virg is an absolute expert in creating an operating cadence to build a high-performing team.
In this episode, we discuss
What an operating cadence is (and why it matters)
Best practices for establishing your own operating cadence
How to build a high-performing team through an effective operating cadence
And, how to expect the unexpected and get your team back on track
Virg Palumbo on Building an Operating Cadence of a High-Performing Team
"At some point, you need to give yourself personal grace and organizational grace."
"More is not better, better is better."
When establishing a cadence, "onboarding matters."
"Keep half-hour meetings to 25 minutes …"
"Take care of the customer, take care of your family … if you get pulled away, just circle back."
How do you help a supervisor who struggles with this? (see 21:54) Ask, "what are you seeing and what are you feeling?"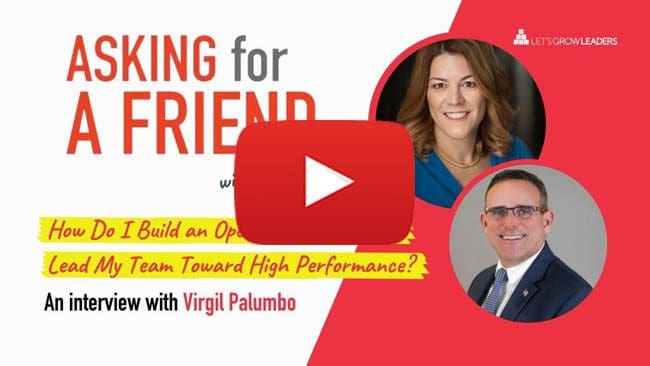 What are your best practices for building a high-performing team?
How do you establish a highly effective operating cadence?
Related Articles:
Leadership Skills: 6 Concepts You Can't Lead Without