You know you've got leadership potential.
But, how do you get others to see it? Particularly, now. After all, your boss has bigger fish to fry than talking about your career.
But this crisis could go on for a while.
And you care about your future and want to make a bigger impact.
In-person visibility is at an all-time low. The company off-site where you would normally have some great hallway conversations is now virtual.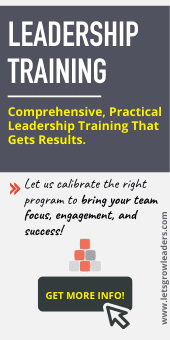 But the good news is that in some ways it's even easier to emerge as a leader and get noticed for your leadership potential.
Because you know what your company needs right now?
Great leadership at every level.
If you're stretching out of your comfort zone, contributing what you can, truly caring for the people around you, making the tough decisions, and prioritizing what matters most—you are bound to get noticed.
5 Ways to Demonstrate Your Leadership Potential Now
This is your moment.
New leaders always emerge in times of crisis.
Stay focused on adding value, making a consistent contribution, and worry less about who gets the credit.
It might not happen right away, but trust me, there will be a point that people look back and say, "Who made a difference during our time of crisis, what did they do, and why did it matter?"
You want your name at the top of the list.
Here's a start.
1. Connect deeply.
Everyone is struggling in their own way right now. Show up with deep empathy (and a bit of vulnerability) and work to connect. Influence starts with trust and connection. And you know what else? It feels good! For you and for them.
2. Keep your cool.

Grace under pressure is by far one of the hardest leadership competencies to teach. And, it's one of the most important leadership competencies needed right now.
When everyone's freaking out about a fast pivot, or visibly oozing pandemic stress onto everyone around them, the people who can provide stability and calm stand out.
Just like stress, calm is contagious. Anything you can do to help the people around you stay grounded will add huge value. Be the one who helps the team stay focused and productive.
3. Consistently contribute I.D.E.A.s to improve the business.
And not just any ideas. Bring ideas that are strategically aligned with what your organization needs to do to thrive in the next 18 months.
No one has all the answers. That's your invitation.
Show that you get what matters most and bring ideas about how to solve a big problem, and in the next 9 box review, your boss will be sharing how resourceful you are with excellent critical thinking skills. You can use our I.D.E.A. model to vet your ideas and then make your case.
4. Be sure every meeting you attend is better because you were there.
People are Zoomed out. Everyone we talk to is sharing that remote work is leading to more meetings, not less.
You don't have to be in charge of a meeting to make it better.
Check out our FREE remote team's resource center for ideas on how to lead remote meetings, run better remote one-on-one and more and work to make any meeting you are a part of better. Suggest alternative ways to communicate, including asynchronous communication.
5. Lead a team to solve a problem.
There's no shortage of challenges right now. Pick something that's really frustrating you, that's within your ability to make better. Find a few like-minded people and work on it. Don't do it because you need visibility. Do it because you care and want to make your organization better. Every leader I'm talking to right now is looking for more gung-ho, solutions-oriented people to help.
Be the person others see as working to make things better.
Your turn.
What ideas do you have for someone looking to demonstrate their leadership potential right now?