To build better ideas, point people toward solutions.
You can't possibly come up with the solution to every problem. You know you need your team's input. And even when you've got a good idea, it can improve. Your team can help you build better ideas — but it takes confidence and humility to make it happen.
 A 26-Million-Dollar Question
When David served as a city councilman, the mayor and council were considering building a preschool and education center to serve the city's youngest children. The average cost for this type of center is 26 million dollars. Despite the cost, everyone wanted it built. Without it, young children were bussed several miles to the nearest school.
Although everyone wanted to build the center, debate at one council meeting threatened to derail the project. Every citizen, business owner, or city staff who spoke raised a new objection: why it couldn't be built over there, why that funding mechanism wouldn't work, or other uses for the land.
Finally, David remembers Mayor Rice calling a timeout. "We can find one thousand reasons why this won't work. That's not the question. The question is, 'How can we get it done?'"
In a moment, the atmosphere changed. The first person to speak addressed an earlier zoning concern and how they could resolve it. The city manager offered two funding strategies. Then an apartment owner offered to coordinate volunteers to give kids and teachers a place to go after school during construction.
They built the education center, and it continues to serve the community today.
This is a fantastic example of an essential leadership question: "How can we …"
"How can we … ?" helps your team build better ideas because it starts with the confidence that they can succeed. We can do this. But it also includes the humility to invite everyone in. We can do this—but it will take all of us to figure it out.
Creative Combinations
When you ask "How can we?" it's often useful to follow up with finding the AND between two seemingly disconnected or opposing goals.
In the early days of the iPhone, Karin was leading a 2200 person sales team at Verizon.
The team was on fire, leading the nation in small business sales to overcome declining retail sales due to AT&T's exclusive rights to sell the iPhone.
Karin and her leadership team made it crystal clear that selling to small business customers was their most important growth strategy.
And it worked. Really well. Clarity on what was most important, and isolating the winning behaviors, led to breakthrough results. The team won the President's Award for customer growth.
But it also frustrated the data product management team, whose most important strategic objective was converting flip phone users to smartphones.
The hyper-focus on small business sales was distracting the team from the data opportunities.
The data team approached Karin speaking her language. They brought on the fun, by dressing up in wigs (to show that data was also a WIG–wildly important goal) and picketed her sales rally with signs that said, "small business customers need data too."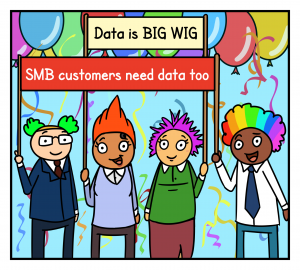 They were asking, "How can we sell business plans and data?"
Rather than fear constraints or competing objectives, ask your team "How can we do both?" and see what creative ideas they dream up.
Build Better Ideas with the Problem People
Problem people aren't problems—they're the people on your team who often bring up challenges, obstacles, and the long list of reasons something won't work.
It can feel frustrating as they seem to oppose every idea. You might feel tempted to dismiss their concerns: "Oh they're always negative."
But there's an opportunity to leverage their insights and build better ideas. When they bring up a problem, ask, "How can we do this and overcome the problem you've raised?"
They'll feel heard and turn their analytic abilities to problem-solving (not just problem-finding). People usually find what they're looking for—so get them looking for solutions and they're more likely to find them.
Your Turn
Asking "How can we …" leverages your team's ingenuity, experience, and insight; creates buy-in and ownership; and helps you build better ideas.
Leave us a comment and share Your favorite "How can we?" question or your strategy to build better ideas.