The Power of Pushing Through to Find the Joy at Work
The other evening, I was sitting at the kitchen table putting the finishing touches on next week's keynote for the American Health Quality Association. They'd invited me to talk about "finding joy in your work," a subject that's at the core of our entire Winning Well philosophy, but that I'm not usually invited to address head-on. I kept feeling I was about 90% there when my son, Sebastian, walked in and plopped a crinkled sheet of notebook paper down my keyboard.
"Mom, here's my story for the 5th-grade graduation speech contest. What do you think?"
I read the words he'd painstakingly written, full of the usual "I'd like to thank my parents and teachers." I'm not sure if it was the look on my face or the fact that he knew it wasn't his best work, that revealed my concern.
"It's not that good, I know," Seb winced.
Now here comes one of those awkward parenting moments. Perhaps you've been there. I know he can do better. I mean, this kid is a storyteller. In fact, he explains some of our concepts better than us.
See Sebastian Hurt on ditching the diaper genie and speaking the truth.
But I also don't want to be one of THOSE moms creating too much pressure, particularly around speaking. My wish for him is that he will always find joy in his work.
But Seb and I have a deal. We tell one another the truth.
"Sebastian you are an amazing storyteller. This speech doesn't just tap into that. You've got an important message to share– I imagine if you spend a little more time, you can find it. If you want to go with this speech you can, but if you want to take it to another level I think you're not that far off.  Let me know if you want my help."
And then, Sebastian curled up into a fetal position and said "I'm not changing it. It's fine."
Finding the Joy at Work
The next morning at 6 am, Seb crawled into my bed and says, "Mom go get your computer, we've got to workshop this."  Yikes, "Workshop?" I guess he's been hanging around too many professional speakers. But that's what we did. We talked about what the audience needed most. We mined for stories. We debated deep or broad– (all relative for the three minutes he had to fill.)
"Okay. I'll think about it some more at indoor recess. It's raining."
When I picked him up for school, he hadn't even shut the car door before he shared the advice three of his favorite teachers had given when he asked for input. Good stuff. Then we went to the back porch to finish the "workshop."' And Bam. He had it. His speech was FANTASTIC. This child who the evening before had been ready to give up, was literally running around our home dancing to the "Happy" station on Pandora.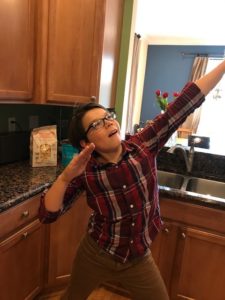 Joy.
Joy in his work.
Bam. The missing element from my speech.
Yup. Joy is contagious.
I thought about the times I've had the most joy in my work. And when I've seen the most joy in others. There's a lot of joy that can come from working really hard at something you care about, and honing your skills to build your capacity to accomplish it. Sure there's joy in the outcome, but there's also joy in perseverance and growth. Joy comes from working really hard until you get it right.
Joy comes from rocking your role.
When we're feeling joyless, it's easy to give up. But just past that, joy is lurking.
See Also: Thriving in the New Abnormal: How to Support Your Team