WINNING WELL CONNECTION
I (David) first met Ilja when we both happened to be visiting Manhattan. He had just released his latest book on change and I was sharing a leadership keynote with a business headquartered in Long Island. On a chilly spring evening, we shared drinks on a roof-top patio overlooking the Empire State building and talked about his favorite places in Germany, changes in the world economy, and leadership. Ilja invited Karin and me to join him in Phoenix, AZ as his guests for the National Speaker's Association Council of Peers Award for Excellence gala (it's like the Academy Awards for professional speakers) and we look forward to reconnecting in Singapore where the three of us are presenting at the same conference. As an expert in change and change management, Ilja embodies his message with an energetic, upbeat, and positive response to whatever comes his way.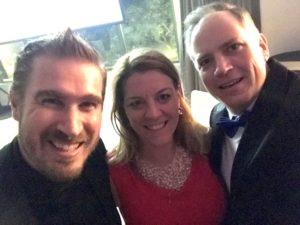 A while ago, I read an interview with former Google CEO Eric Schmidt, where he made a fascinating observation. He said: "Today, mankind produces more information, data and ideas than from the stone age until the year 2003 together." And he nailed it with that statement. Because the changes around us are getting more and more intense. Everything changes. Permanently. The economy, the organizational structures in our companies, our very own working space. As a keynote speaker and change coach, I have the privilege of working with a lot of awesome organizations. And it doesn't matter which industry I look at, whether it's a big brand or a small company with just a hundred employees. There is one thing they all have in common: The rules have changed and constant change has become the new normal.
The Rules Have Changed
Especially disruptive technologies, the demographic trend and the digitalization are the main reasons that markets change dramatically and the customers are behaving completely different than they used to do just a few years ago. And that means that our ability to deal with this new complexity around us will be the most important factor if we will still be successful in the future or if we become obsolete. And just to be clear, I'm not talking about change for change's sake, but about change with a purpose. Change with intention. Change to reach your goals, to become more profitable and to grow as a person. In the upcoming years, nothing will be more important, than to adapt to these new circumstances.
Use Your Mindset as Your #1 Asset
What does all that mean to your jobs as a leader? First, you need to quickly adapt to all of the changes going on around you and adjust your own mindset. Even more importantly, you need to lead the changes in your team. Organizations only change when the people change. And it is your job to make sure they do. Not by telling them or giving orders, but by reaching their hearts and leading with your actions. And believe me, I know what I am talking about. In my own career, I started out as the youngest store manager in Germany's largest department store corporation and overall, I was responsible for ten different stores all over the country. Back then, not only did I have to deal with tough competition, changing markets and the upcoming phenomena of online shopping but also with a huge crisis within the company itself. Locations were shut down, profits were decreasing and thousands of employees were facing the fear of unemployment. During these tough times, I learned the biggest lesson of my life: Change is not what happens around you, but how you deal with it. It is your mindset that makes all the difference. Your attitude. And after all, the culture in your organization. Let me share one of my deepest beliefs with you: A company culture of openness, flexibility, and courage beats every sophisticated business strategy by far. Because there's one thing you can be sure of: If you are good, your competition will copy everything. They will copy your products, your prices, maybe even your marketing. But they will never be able to copy your culture.
Create a Culture of Change in Your Company
In my book "Think it. Do it. Change it.", I explained how to develop this special attitude of change. If you know how motivation really works, why the fear of going new ways is actually your best friend, and how to use your own uniqueness to lead the changes in your company, your community and most importantly, in your family, you will be able to make a huge difference. At the end of the day, dealing with change is a mindset. A certain way of thinking, deciding and taking action, that we have to adjust not only once, but on a daily basis. The more you use that special attitude, the sooner you will develop strong habits. And that's important because changes never happen overnight. They are a process with successes and failures. With ups and downs. You have to work hard to make it happen every single day. Isn't it true? It's never the one with the best abilities who wins, but always the one who is well prepared, the one who takes massive action and changes actively. Because under the same circumstances it's always the attitude, the mindset, the company culture that makes all the difference in the world. So dream big. Act bold. And you will get the results you want.
Winning Well Reflection
We were struck by Ilja's observations that "organizations only change when people change." As leaders, it's all-too-easy to fall into the "they-game"e.g. I'll lead well … when "they" get their act together… when "they" fix the problem … when "they" give us a better system. But that's not leadership. Leaders take responsibility and create the change that needs to happen. We love the way Ilja reminds us that "change is a mindset" – you often don't know what you'll show up to – but you have 100% control over how you show up.
Save
Save