Welcome back to the Let's Grow Leaders Frontline Festival. Our January Festival is all about Confidence. Thanks to Joy and Tom Guthrie of Vizwerx Group for the great pic and to all our contributors! Next month's Festival is all about Humility. New contributors welcome.
Confidence: Explaining It
"When you have confidence, you can have a lot of fun. And when you have fun, you can do amazing things." – Joe Namath
Beth Beutler of H.O.P.E. Unlimited shares how a shooting lesson with Olympian and Top Shot star Gabby Franco revealed three important elements of excellence and confidence. Follow Beth.
John Hunter of Curious Cat Management Improvement  shares that without confidence people often take disagreements about the merits of an idea, proposal or action as an attack on them. With confidence people are much more able to separate their feeling of self worth from a discussion about what options are best. Follow John. 
According to Barbara Kimmel of Trust Across America, when a business that's comfortable not having 100% market share confidently and happily recommends a competitor, they're sending a signal about trust and confidence and most of all, about feeding the community first. Follow Barbara.
Michelle Pallas of Michelle Pallas, Inc. states that we act confidant when we deliver on our promises. It's the only thing that gives us the right to hold others accountable. Follow Michelle.
Skip Pritchard of Leadership Insights says confidence is more important to your success than competence and provides three steps to building it. Follow Skip.
Confidence: Gaining It
"Confidence comes from discipline and training." – Robert Kiyosaki
Paul LaRue of the UPwards Leader gives us steps for new leaders to overcome their fears and gain credibility in their new role. Follow Paul.
From Matt McWilliams of MattMcWilliams.com: You had great expectations, but you fell short. Now what? Here are five steps for letting go of expectations and getting your confidence back. Follow Matt.
Julie Pierce of Empowered by Pierce asks, "Do you ever find your confidence waning when you're cornered?" Here are 3 Confident Comebacks for When You're Pressured, Pushed, or Put on the Spot. Follow Julie. 
Confidence: Maintaining It
"To succeed in life, you need two things. Ignorance and confidence." – Mark Twain
David Dye of Trailblaze Engage! shares several tools to overcome imposter syndrome and regain the confidence you need to lead well. Follow David.
LaRae Quy of Mental Toughness Center tells us five things confident women never do, and that confidence should never be confused with arrogance. Follow LaRae.
Chery Gegelman of Simply Understanding asks, "How do you maintain your confidence when you are pushed outside of your comfort zone or faced with historical pain?" Follow Chery.
Dan Rockwell of Leadership Freak says "Insecure people won't try. Successful leaders help others find confidence, assuming they want to find it." Follow Dan.
Tanveer Naseer of Tanveer Naseer Leadership provides  5 measures leaders can take to build and strengthen their confidence. Follow Tanveer.
Call for Submissions. February's Frontline Festival is about humility. Please send your submissions no later than February 13th. New participants welcome. Click here to join in!
If you haven't seem my confident humility infographic, click here. to view and share.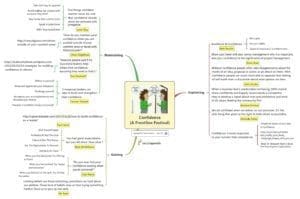 Thanks to Larry Coppenrath for a wonderful map of our Festival's Ideas.