Helping your team to prioritize their focus and work is one of the toughest roles of a manager. It's hard because you face similar pressures. You're still required to meet all your targets and objectives, so teaching your team to place an item on the bottom of the list is scary. What if they really don't get to it? There are no easy trade-offs in this "AND culture" (we need this AND that) most of live in. Prioritizing and balancing competing priorities are essential elements of the leadership dance. Knowing what to move to the top of the list when, and how to keep the other plates spinning at the same time takes practice. Help your team recognize the common traps that are sabotaging their ability to prioritize well. (Thanks to subscriber Joy Guthrie for today's art).
Common Prioritization Traps
Perhaps you have some of these characters on your team. Here's how you can help.
Windshield Watchers
Windshield Watchers look deceptively productive. They're moving fast and getting a lot done. They're often the first one to respond to any task because they're taking the Nike approach to whatever hits their windshield. The adrenaline brings a familiar rush to their day. Windshield Watchers actually attract more urgent work because people know they'll drop everything and get on it. The biggest problem with the Windshield Watcher is that they have no real basis for prioritization. Urgent always trumps important in such team members, so although they're getting a lot done, but not necessarily making progress toward bigger goals. Windshield Watchers often struggle with feedback, because they know they're busier than everyone else. They resent having to talk about it right now, with all the emails coming in that require attention. Help Windshield Watchers by developing a strong calendar-based system and working backwards from deadlines. Teach the art of the urgent/importance matrix.
Wheel Greasers
Wheel greasers hate conflict and are particularly sensitive to pressure from above. They prioritize based on whomever's screaming the loudest (or with the most "important" voice). Which means, the problem may be hard for you to detect (after all, you appreciate how seriously they take your requests). Wheel Greasers often feel overwhelmed from the stress of trying to please all the people all the time. They feel like they can never do enough, because there's no objective measure of success. Help Wheel Greasers by helping them define objective criteria on which to prioritize their work. Recognize if they have a tendency to drop other work to do what you need because you're the boss. Explain and role model how you differentiate noisy requests from urgent issues.
Whack-A-Molers
These well-intentioned folks care deeply about the outcomes. They pour their heart and soul into the most important work. It's hard to argue with their priorities. The challenge is that in their laser focus they often miss the unintended consequences caused in the aftermath. Sure customer service metrics improve, but financials suffer. Or, the financials look great, but employees are miserable. Help Whack-A-Molers by encouraging them to see the big picture and brainstorm downstream impacts. Encourage them to pilot their ideas before spending significant energy on large scale implementation.
Work Harders
Bless their hearts, work harders will do everything they can to get it all done, no matter how many hours it takes, or how little they've slept. The problem with these hard workers is that they often are so busy doing the work, they don't take time to consider the best way to get it done. They overlook possible support from others or more efficient ways because they're so lost in the doing. Help Work Harders to step back and consider the best approach to getting work done. Help them build some white space into their day.
Customize Your Coaching
Rather than teaching a generic system of time management or prioritization, consider starting with the tendencies that are getting in the way, and helping each person find more effective approaches. Ask which of these characters they most relate to, and how that works and gets them into trouble.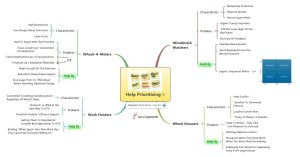 Thanks, LGL community member, Larry Coppenrath for creating a mindmap of today's post.  Click on the image to enlarge.