My first book, Overcoming An Imperfect Boss is now on Amazon. I want to express deep gratitude to all in the LGL community who have grown with me in my Imperfections. Your insights are woven throughout this guide.
Why Talk About The Imperfect Boss?
I keep being asked why, of all the leadership topics I write and speak about, I would pick "imperfect bosses" as the topic of my first book. It's quite simple. The supervisor relationship is the number one predictor of employee engagement and job satisfaction. Yet, most people screw up this powerful association.
The tragedy is that too many people leave the magic of what could be a game-changing relationship untapped. They follow traditional boss-subordinate protocol…they don't get too close, don't say too much, and don't push the envelope. And so bosses come and go, and both parties muddle through. People do their best with the boss they've been given. It doesn't have to be that way.
Some of the bosses who once made me crazy, grew to be lifelong mentors and friends. As I reflect on our journeys, each of these alliances had a transformation point. Something drove one or the other of us crazy, we talked about it, worked through it, and both emerged with a deeper level of respect.
Imperfect Bosses I've Known
There was the VP that blew a gasket because of a stupid (yet fixable) mistake one of my employees had made. He screamed and yelled at me just minutes before I had to grab a microphone and give a motivational speech to my entire organization.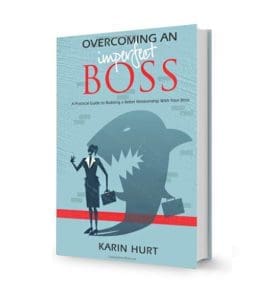 I had choices. I could have become rattled and let his poor leadership choice screw up my ability to lead. Instead, I looked him in the eye and calmly shared, "I can see you're really upset, and I'm sorry. We need to talk through what happened here and address it. But right now, I have hundreds of people waiting for inspiration. So please excuse me." I turned around and left my office, not sure if I would have a job when I returned.
I gave my speech, fixed the mistake, and his entire demeanor changed. We never did discuss that outburst or what had triggered it. We didn't need to. This "screamer" never raised his voice to me again, and became one of the best bosses and mentors I've ever had.
There was also the time I was running a large sales organization. I knew we needed to change the org structure and invest in additional headcount. I had a tight business case, and had proved-out the trial concept, but my boss was worried about the political ramifications of doing something different than the other Regions.
I told him, "I'm so confident that this will work that if it doesn't you can fire me." Of course that was highly risky, and I had to be prepared to walk away. But the depth of my passion and commitment, led him to "yes".
We blew away the results, and became the best sales team in the Nation in that arena. Others regions followed our model.
The Imperfect Boss I've Been
Of course, sometimes I'm the imperfect one in need of reigning in. Not long ago, I was going through a really tough couple of weeks. The cocktail of challenges was impacting our performance. We needed stronger results immediately. I didn't realize how much my stress showed on the outside. A trusted leader on my team shared bluntly, "You're changing."
The words stung with fierce truth. He was right. Succumbing to the leadership squash sandwich, I was taking on familiar, but unwelcome behaviors common in such scenes. I was showing up like the boss I refused to become.
I was worried about our mission, our cause, and our careers. My passion to protect my team had taken on an ironic intensity. My supportive style had morphed into frantic control. I began inviting myself to calls and requiring more rehearsals and executive readouts. Instead of trusting my competent team, I scrutinized each page of every Powerpoint deck.
My efforts to protect them from my stress had backfired. I had stopped leading like me. The words still echoing from the first conversation, my phone rang again. I now knew my team was tag-teaming this intervention.
"I joined this organization because I believe in your leadership. Your rare style works. Stay the course. We believe in you, in us, and the mission. Every one of us has your back. Just tell us what you need."
There I was, a leader following the intervention of my team. They were coaching me back toward authenticity and it was wonderful.
My team reminded me that:
Showing up tough is weak
Servant leaders must also receive
Great teams hold their leader accountable
I want to know the truth
Great leaders tell the truth
Courage means staying true to your style
My team needs me to lead like me
Over the years, I've had employees tell me how I've hurt their feelings, overlooked their efforts, embarrassed them, or over-reacted. Every one of those conversations has made us stronger, tighter, and more effective.
The most brave of these folks, the men and women that have given me the most stinging (and true) criticism, have grown into the richest relationships.
The Imperfect Boss You've Had: Your Turn…
So in the spirit of celebration and community, please share your stories of overcoming. Do what you will to make it comfortable. Disguise the name, make it a story from long, long ago, change the gender, but do share.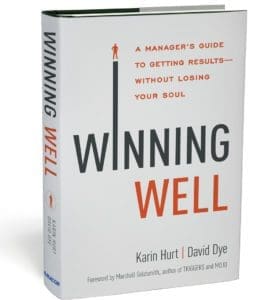 Let's have a celebration of journeys, growth, and imperfection. If you find the book helpful, I'd appreciate your reviews on Amazon to help spread the word.
Are you looking to be a better boss? Check out our book Winning Well: A Manager's Guide to Getting Results- Without Losing Your Soul