This month's Frontline Festival sets a new record for submissions. I am grateful for all the experts sharing their insights on creating connection.
Connecting the Dots
Barbara Kimmel, Trust Across America Blog, shares Collaboration, What's in it For Me. Collaboration leads to better decision making and working together people can achieve extraordinary things. Follow Barbara @BarbaraKimmel.
Dan Rockwell, Leadership Freak shares Mintzberg Rejects Macro-Leadership. When Dan asked Henry Mintzberg for the advice he most frequently sharing with leaders and managers, he said one word, "Connect." Follow Dan @leadershipfreak.
Alli Polin, Break the Frame shares Watch Your Language.  Engagement and connection start with your communication. Do your words build walls or bridges?  Follow Alli @AlliPolin
Kate Nasser, Smart SenseAbilities shares Don't Make Connection So Hard. 8 Simple Action Steps!  Creating a connection is not that difficult. We make it hard. Let's change that. Here are 8 simple action steps from The People Skills Coach™ to make connection easy! Add your #9 and #10!  Follow Kate @KateNasser
Chip Bell shares The Leadership Echo.  Innovative service goes viral when it is echoed from a leader who treats associates exactly the way customers should be treated. A powerful, compelling leadership echo happens when leaders connect with employees instead of cocooning in their office on meetings.  Follow Chip @ChipRBell
Jon Mertz, Thin Difference shares Empathy: Making the Connection.  Maybe with all the social media connections we are missing the real connections as real people pass us by almost unnoticed. Empathy connects us and we need to activate it.  Follow Jon @ThinDifference
Chery Gegelman, Simply Understanding Blog shares Everything the Light Touches.  When have you engaged or been engaged by a complete stranger? Did the day get a little brighter? Did the world get a little smaller? "We cannot hold a torch to light another's path without brightening our own." -Ben Sweetland.  Follow Chery @GianaConsulting
The Chatsworth Consulting Group shares Why Winnie the Pooh Leaves His Corner of the Forest.  The post offers the wisdom of Pooh who reminds us that if we want to accomplish something, we must take responsibility and make an effort and get out of our comfort zone – our comfortable corner of the forest. As leaders, it's our responsibility to model this behavior so that our teams (or families, or organizations, or selves) can step away from what they know, make a first attempt to connect with others, and not stay waiting in their corner of the Forest.  Follow the group @ThoughtfulLdrs
Nurturing Connections
Frank Sonnenberg, Frank Sonnenberg Online shares A Marriage Made in Heaven.  What makes relationships last? How do you create a marriage made in heaven? This article examines the elements of successful relationships.  Follow Frank @FSonnenberg
David Dye, Trailblaze shares 18 Truths You Really Can't Avoid if You Want to Stay Relevant, Effective, and Connected. Connection, credibility, and influence with your team requires awareness of, and connection with, your environment. In this post, David shares 18 truths to avoid organizational decline and maintain your relevance and connection to the world around you. Follow David @Davidmdye
Wally Bock, Wally Bock's Three Star Leadership Blog shares There's Always a Connection.  Work doesn't have to be the only subject you discuss with team members. Find out what you have in common. There's always a connection.  Follow Wally @WallyBock
Tracy Shroyer, Beyond the Stone Wall: Leadership with Dr. Shroyer shares The Power of Self-Disclosure.  In preparation to teach her Interpersonal Skills college course, Tracy took some time to reflect on self-disclosure, one of the topics for an upcoming week's class. Is there someone who you share thoughts, feelings, and information with? How has that been a positive experience for you?  Follow Tracy @TShroyer2
Aboodi Shabi, Aboodi Shabi and Company Limited shares The Available Leader.  A large part of leadership has to do with your availability or unavailability as a leader. Discovering how you show up as a leader is a key part of your leadership development.  Follow Aboodi @aboodishabi
Connecting in Groups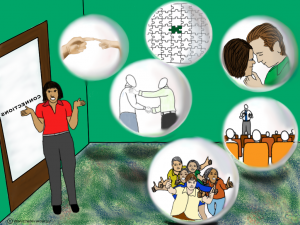 Mike Henry Sr, Lead Change Group shares Mary C Shaefer's post In Leading, There is No Substitute for Human Connection.  Mary presents an interesting, practical case study of a client who both learned and helped his internal "customers" learn the value of connection in the workplace.  Follow Mike @mikehenrysr
Mary Jo Asmus, Aspire shares Being Grateful for All of Them.  Even though this post on being grateful of others was published close to Thanksgiving, it's a reminder that gratitude for others is important at any time of the year.  Follow Mary @mjasmus
Tanveer Naseer, TanveerNaseer.com shares Learning to Connect to Boost Employee Engagement.  Find out what 3 critical steps leaders should be employing to connect with their employees in order to help boost employee engagement levels in their organization.  Follow Tanveer @TanveerNaseer
The Festival's Connection Art comes from Joy and Tom Guthrie of Vizwerx Group, LLC  (above right).  Follow Joy @Joy_Guthrie
Connecting in Community
Bill Benoist, Leadership Heart Coaching shares Valentine's Day Engagement. Although we strive for a balanced life, in reality home, work and school are all connected. When we are engaged, these connections allow us to fire on all cylinders.  Follow Bill @leadershipheart
Julie Pierce, Empowered by Peace shares 3 Circles of Community Every Leaders Needs.  Ever feel lonely in your leadership? Leadership Coach Julie Pierce shares 3 must-have circles of community for every leader.  Follow @Julie_Pierce
John Hunter, Curious Cat Management Improvement Blog shares Networking is Valuable but Difficult to Quantify.  The benefits of networking are unpredictable and not easy to control (to specifically target – you can do this, it just has fairly uncertain results). Web sites are great because they give you a huge reach right away, but deeper, personal connections are much more powerful.  Follow John @curiouscat_com
Chantal Bechervaise, Take it Personel-ly shares Your Choices Influence Others.  Influence is a topic that Chantal find very interesting. When she searches twitter she finds two types of people; those who are angry or do nothing but complain and those that make the effort to engage and really go out of their way to "talk" with people. They make a connection, create positivity and genuinely seem interested in others.  Follow Chantal @CBechervaise
Matt McWilliams shares How NOT to Network on LinkedIn.  This is a humorous look at how not to use LinkedIn, using an example from my network. In your efforts to develop a network, please don't make the mistakes this poor fellow made.  Follow Matt @MattMcWilliams2
Subha Balagopal, From the Principal's Pen shares I Didn't Take This Job to Give Up On You.   A leader's job is about people and connecting with others often leads us to wrestle with what we believe in. Subha is an elementary principal and her post was inspired by a situation at school that caused him to grapple with the authenticity of his words and beliefs.  Follow Subha @PrincipalsPen2
Unique Ways to Create Connections
Sal Silvester shares The 4-Step Feedback Process.  Most leaders struggle with how to give team members feedback. Use this model to provide feedback in a way that will engender team member commitment.  Follow Sal @512Solutions
Ali Anani shares a slideshare, Avoid the Comfort of Closed Social Circles.  Connecting with others requires having dynamic circles that aren't limited to whom you like.  Connect with Ali at [email protected]
Tom Eakin, BoomLife shares How to Become Powerfully Social and Socially Powerful.  Success is getting what you want AND being the person you want to be. This article describes how GPS Theory can be used to help, and get help from, the people in your world to live your core values, because you can't get what you want if you are not, first, the person you want to be.  Follow Tom @goboomlife
Sean Glaze, Great Results Team Building shares How Low Tech Events Provide High Tech Results.  When considering a corporate event to connect your team, the purpose is not only to enjoy the few hours of the event together. Your team should ALSO be able to refer back to the fun interactions and take way applicable insights that will positively impact your organization weeks or months or even years later.  Follow Sean @leadyourteam
Connecting with Yourself
Bernie Nagle, Altrupreneur shares Your "Inner Other" – Connecting to Feminine & Masculine Leadership Energy. Connecting to our "Inner Other" simply means we have learned to access and honor both the feminine and masculine aspects of leadership energy within each of us – essential for self-awareness and development as conscious leaders.  Follow Bernie @altrupreneur
Lynette Avis and David Brown, Avis and Brown shares The Stars at Night.  Connecting to the vast night sky brings about a greater awareness of self, others and the universe. Follow Lynette and David @avisandbrown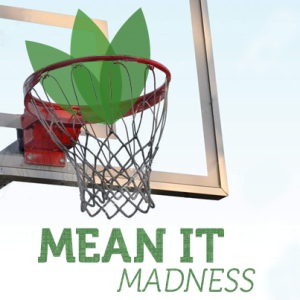 Thanks to Ben Evans, LGL intern, for his work on coordinating this month's Festival.
March's Frontline Festival will be part of the March "Mean It" Madness on Let's Grow Leaders.  The topic will be sincerity and meaning what you say.  Submissions due March 7th, Festival will go live March 14th.  Click here to submit.  If you know others with a meaningful "mean it" story (no blogging necessary, just a story) , please encourage them to share it here.